Montgomery Parks Officials Explore Capturing and Relocating Aggressive Owl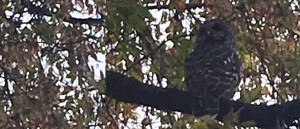 There have been more reports of a juvenile barred owl encountering passersby on the Capital Crescent Trail, according to a Montgomery Parks official.
Parks spokesperson Melissa Chotiner said the most recent incidents have occurred when the trail, north of Dorset Avenue, is officially closed at dusk or dawn. So she said parks officials are placing more signs to warn CCT users of the "aggressive owl's" behavior.
Chotiner said Montgomery Parks officials are also exploring options to capture and relocate the barred owl. She said that requires considerable permits from federal and state agencies as well as specialized skills and equipment.