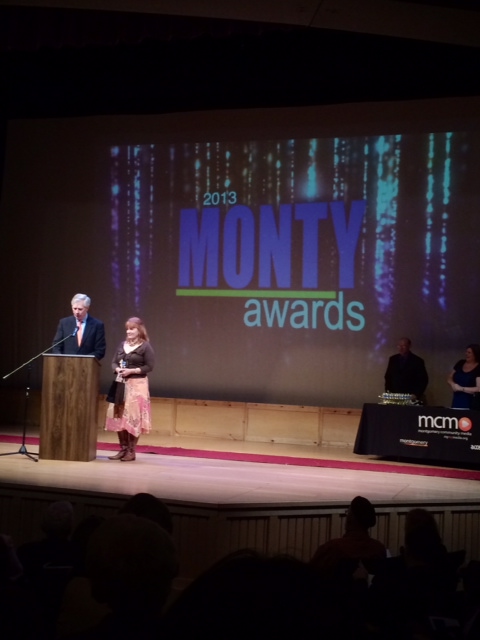 Monty 2013 Awards Ceremony (Photos & Video)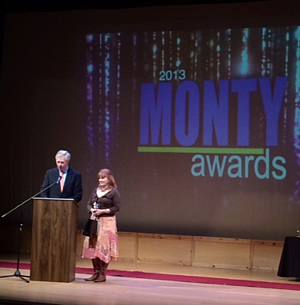 The 2013 Monty awards ceremony was held on Nov. 17 at BlackRock Center for the Arts in Germantown.
The theme of this year's event was "Night in the Spotlight," and dozens of Montgomery Community Media (MCM) contributors attended the ceremony where the focus was clearly on them.
The event began with MCM Board President Nancy Poole welcoming special guests and recognizing MCM board members.
Then, host Don Mooers entered the stage where he entertained the crowd while presenting the evening's awards.
Here's a video recap of the event:

So who took home a Monty? Here's a look at the categories and the Monty winners:
Arts & Humanity: Fantastic Forum, episode #42, produced by Ulysses Campbell. Technicians included Mark Leeke, Bryan Lyles, Janar Stewart.
Community: "Dialagondo Con Policia de Condado de Montgomery, episode 3" produced by Marian Merewitz. Production technicians included Marian Merewitz, Donna Merrifield, Dick Terrill, Dee Willett and Larry Merewitz.
Educational: TravelTelevision.org produced by Steve Friedman. Production technicians include Merrill Hessel, Yen-Ming Chen, Bill Stewart, Susan Emery Bob Mattia and Dick Terrill.
Ethnic: "The Info Zone episode 169" produced by Yen-Ju Chen. Production technicians include Yen-Ming Chen, Jerry Simon, Dick Terrill, Jennifer Walden and Francine Wyron.
Inspirational: "The Word of God," produced by Nathalie Malabani.
Presenter: "Palabras de Paz," presented by Luis Lopez.
Public Affairs: "MC 21, episode 11" presented by Yen-Ju Chen. Technicians include Yen-Ming Chen, Jerry Simon, Dick Terrill and Jennifer Walden.
Sports: "Burgundy and Gold Magazine, episode 30" produced by Mike Richman. The production technician for this program was Robert Snip.
Best Class Project: "Dreams and Dollars, episode 22" produced by Sheila Martel.
Special Categories, Music Production: "Imagine That!" produced by Wes Crawford. Production technicians include Bernie Schoch, Susan Emery, Lisa Clark, Sandra Fernando and George Ramick.
Best Host: Susan McNeils of "Imagine That!"
Best Host Professional: Libra Johnson of "In Transition with Libra Johnson"
Backpack Journalism: Jabari Friend for his story about Greg Wims.
Citizen Journalism: Linda Wang for her story about "Clothing Donation Drop Boxes."
Blog: Phil Fabrizio's "Building a Lasting Legacy."
Viewer's Choice Field Production: "National Christian Choir at FBCG" which is produced by Robert Snip.
Viewer's Choice Studio Production: "Transforming Lives episode 18" produced by Sheila Ogilvie.
There were several other awards presented, including:
Field Producer with the most hours: Sussan Yekta
Studio Producer with the most hours: Sheila Ogilvie
Field Technician with the most hours: Robert Snip
There were more awards for studio technicians who were honored for working on over 40 shows this year. These awardees included:  Yen-Ming Chen, Bryan Lyles, Sussan Yekta, Donna Merrifield, Dee Willett, David Mitchell, Marian Merewitz, Bob Mattia, Dick Terrill and Jerry Simon.
Studio technician Jerry Simon was also presented the Bill Randolph Award for volunteering on the most shows over the past year.
Merlyn Reineke, MCM's executive director, also presented some special recognition awards to Jerry Simon and Dick Terrill for their work on the studio transition and he presented Monica Costa with the Bruce Adams award for her dedication to community service.
Congratulations to all the winners!