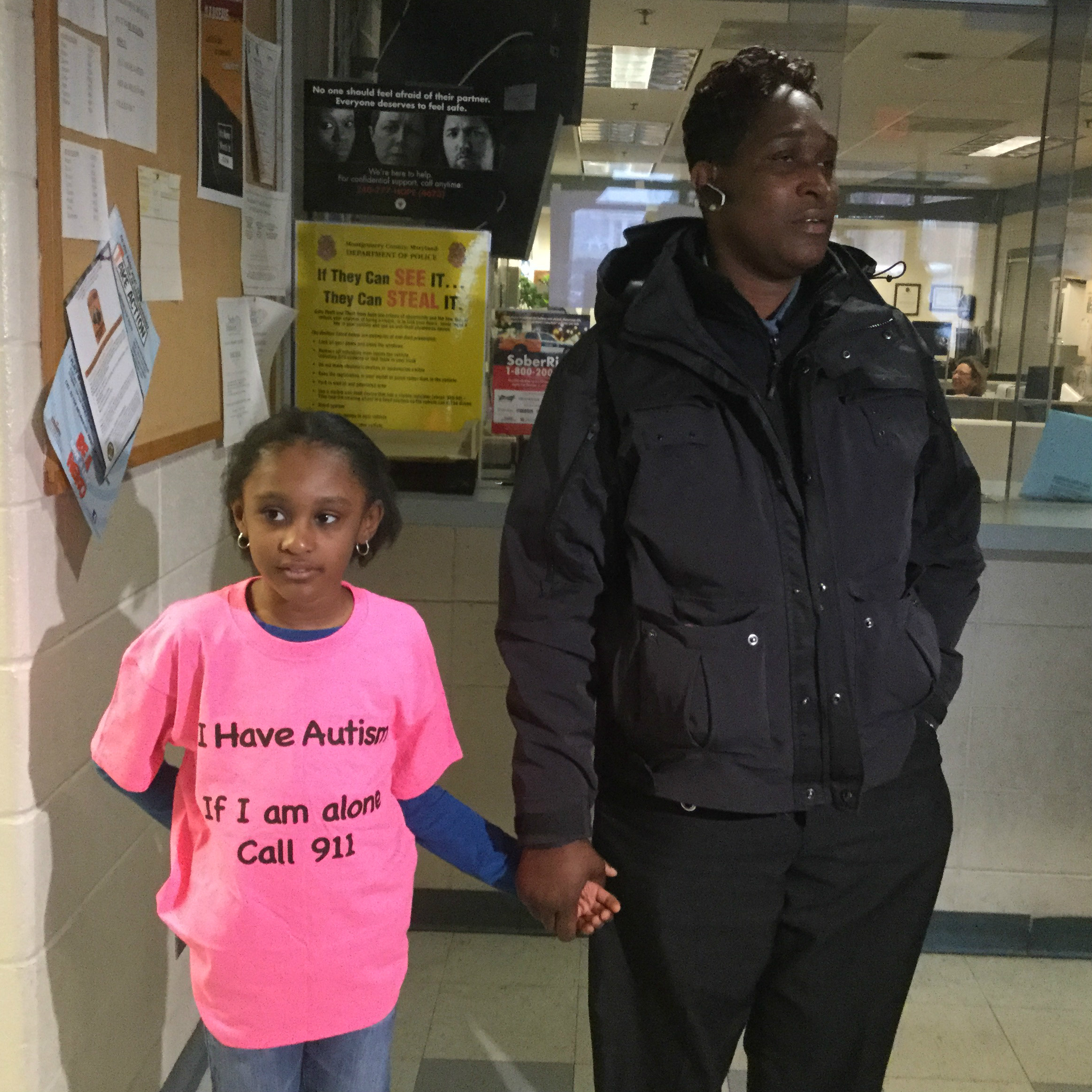 Mother Reunited with Officer who Found Lost Special Needs Daughter (VIDEO)
Mary Wimpy fought back tears Friday when she was reunited with Montgomery County police Officer John Pruziner, the man who found her autistic daughter, shivering and damp, the previous Saturday.
Sahara McCallister, 7, was found lying down by a creek that flowed out of a drainage pipe.
"I decided to follow a little drainage pipe that went underground. I saw where it came up and there she was. It was a lot of relief for me to see her there. Because it was getting a little cold, the wind was whipping. I knew she was probably wet. She was wet. She was freezing cold when I found her," Pruziner said.
Pruziner and Wimpy, who works at the Rockville campus of Montgomery College as a public safety officer, stood with Sahara to describe the ordeal before a clutch of reporters at the 5th District Police Station in Germantown.
The officer had taken special training with Montgomery County police that instructs officers that autistic children and adults have a dangerous attraction to water. Because of that training, he walked along a creek that was near the town houses on Locustdale Drive.
"I was frantic, and I am grateful," Wimpy said. "I am forever grateful for you stepping outside of your cruiser to decide to walk that pond area. I am thankful for all the officers, but I am especially thankful that you decided to walk the pond and find her for me."
Sahara, Wimpy said, had managed to escape her babysitter and her Germantown home without wearing a coat. The day had turned cold, with temperatures in the 30s. The babysitter found her in a nearby park, but when the sitter called after Sahara, the child ran away.
Police were called about noon. Police said they didn't know how many officers were part of the search, but Wimpy said a number of her neighbors took part trying to look for her daughter. About an hour later, Pruziner found her.
"People—who don't know us, don't know our story—decided to stop what they're doing to help find my child. Words can't describe that," Wimpy said.
Wimpy was at work when she got the call that her daughter was missing, and that they found her. She said she raced to her location.
"She was pale, shaking, foaming at the mouth. I thought she was dying in my arms," Wimpy said.
Sahara, whose nickname is Mookie, was found and eventually taken to the Children's National Medical Center, where she was treated for hypothermia, police said.
Pruziner said he didn't want to say something corny like it was all in a day's work, but he did say: "That's why cops suit up in the morning. It's for calls like this."