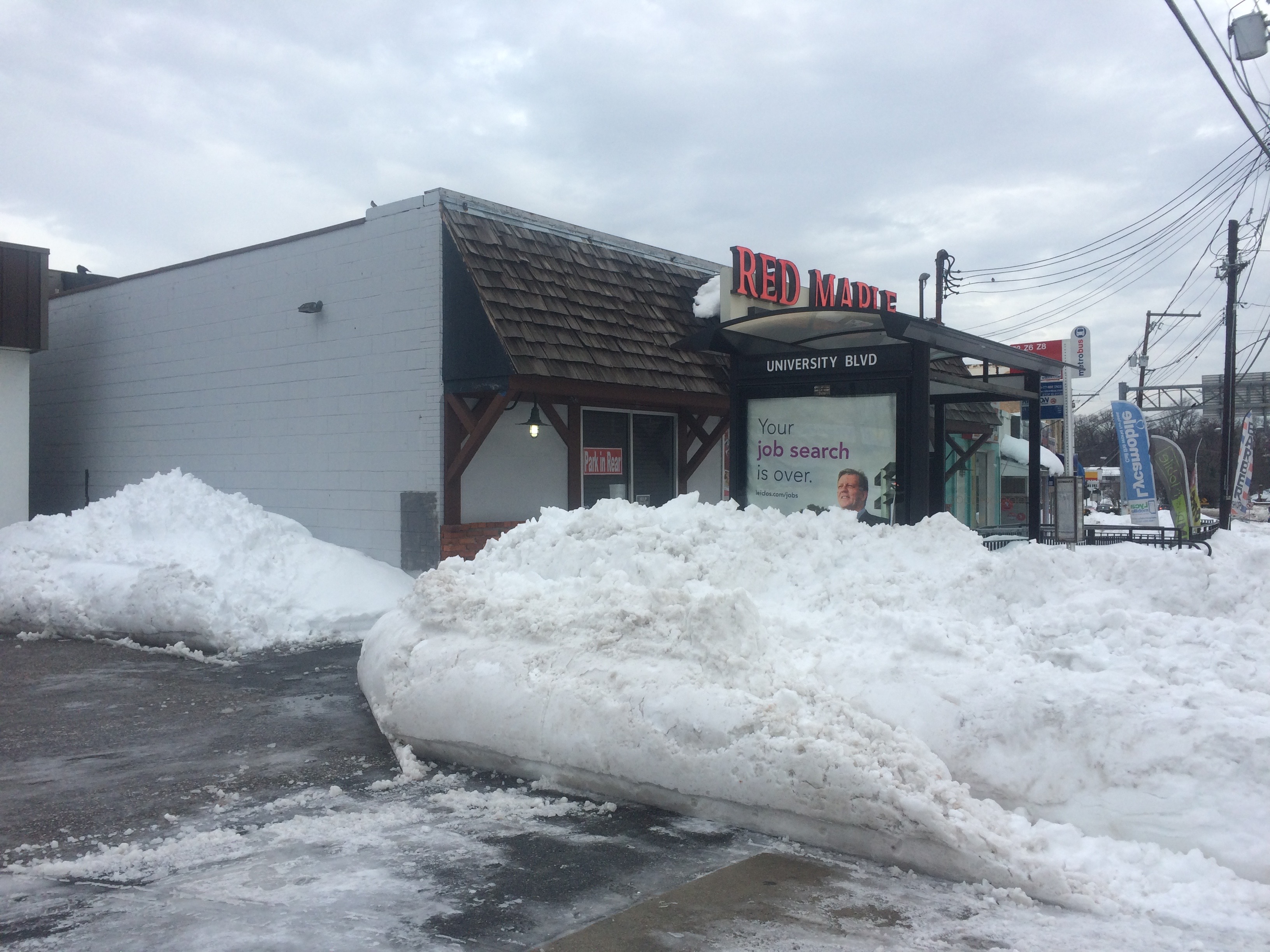 Mounds of Snow Hinder Commute for Pedestrians and Bus Riders (PHOTOS)
As things begin to return to normal around Montgomery County after last weekends record blizzard, commuters are hitting the roads and sidewalks to head back to work. Delays and traffic jams are common place around the County but for some, mounds of snow are impeding their commutes.
A bus stop at the intersection of Colesville Road and University Boulevard in Silver Spring was packed with a wall of snow, according to David Rotenstein, a resident of Silver Spring. Rotenstein says that the snow was pushed in front of the bus stop so high that pedestrians found it impossible to cross the street and stand at the stop.
"On Tuesday I noticed they hadn't shoveled their sidewalks. I began tweeting photos of the conditions to county officials to get their attention and try and get mediation for a very dangerous situation. What truly shocked me about the situation is that GameStop had the audacity to plow its lot and create this problem for people trying to reach the bus stop," Rotenstein said.
A manager at GameStop declined to comment and referred MyMCMedia to the landlord of the property. Under County law, landowners must remove snow from sidewalks within 24 hours after snowfall. Due to the amount of snow from last weekend's storm, the county noted that enforcement would be "reasonable" in a press release on Monday.
Laura Hussey commutes to work by taking the bus from the University Avenue and Colesville Road intersection. She says it was troublesome to watch seniors and other commuters attempt to hike over a "four foot wall of snow," just to wait for the bus.
"I talked to a women who worked in retail, she was just trying to get to work. We have to account for those people, they depend on buses for transportation. I feel like we failed those people by prioritizing those who have cars and not accounting the other modes of transport. We have a lot of people who depend on public transportation and pedestrian access to it, and their safety should matter," Hussey said.
Rotenstein took to social media to get his point across. He used Twitter and Facebook to contact Councilmembers Tom Hucker and Hans Riemer as well and Rodriguez Reemberto, the Director of  the Silver Spring Regional Center.  Hucker said he received many complaints from constituents about the bus stop.
"I know people were in touch with the manager. I think there's a lack of awareness on the law that requires residents, and business owners to shovel the sidewalks in front of their property. Once that was brought to the manger's attention, the problem was taken care of," Hucker said.
Proud of yourself @GameStop? This is how elderly pedestrians got to the bus stop today cc: @tomhucker @hansriemer pic.twitter.com/upvaw2XGen

— David Rotenstein (@iVernacular) January 27, 2016
According to County spokesman Patrick Lacefield, inspectors visited the site on Wednesday. By Thursday morning, the sidewalk and area in front of the bus stop had been cleared.
Montgomery County Executive Ike Leggett  has called for Montgomery County residents and business owners to remove snow from sidewalks in a statement released on Wednesday.
"Now, four days after the storm, our streets are passable and being improved. Soon schoolchildren will be returning to school. For those who have already cleared their walks, I say thank you, For those who haven't, now is the time – about 90 hours after the storm passed." Legget said. "This is important so that schoolchildren are not walking in the street, so that seniors can get where they need to go, and so that all pedestrians and commuters using Ride On and Metro can get around safely."
Residents can file complaints related to sidewalk snow removal online at the MC311 website.
Lousy neighbor, @GameStop – store in 20901 plowed its parking lot & pushed all the snow into sidewalk/bus stop. pic.twitter.com/tYiRRQr3Ia

— David Rotenstein (@iVernacular) January 26, 2016
Thank you @tomhucker @hansriemer @DaveKunes @reemberto The bus stop & sidewalks @ Colesville & University are clear pic.twitter.com/sIZy1Oclyk

— David Rotenstein (@iVernacular) January 28, 2016
Yep, they look pretty good. Thanks for your advocacy for 4C. We have to rely on active eyes and ears on the street. https://t.co/Lh7C33O8xo

— Tom Hucker (@tomhucker) January 28, 2016