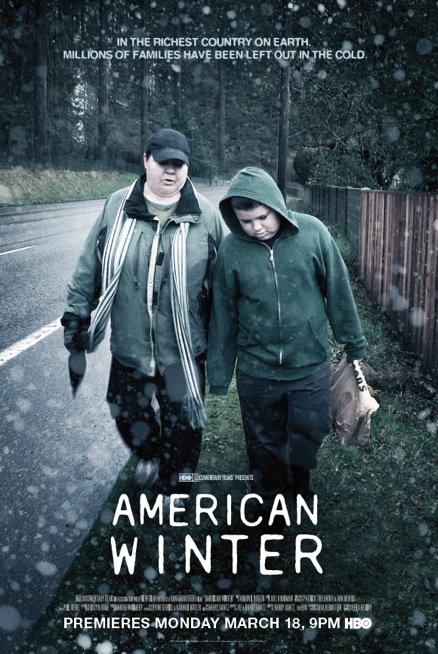 Moving Beyond the Safety Net
This past Wednesday evening, I attended the screening of American Winter, a documentary that follows the stories of several families trying to survive in this current economic and social climate. Montgomery County councilwoman, Valerie Ervin, brought the screening to this area as a way of encouraging dialogue and creating awareness of the poverty that exists here in our own community.
At Manna, we are proud to support Montgomery County residents in the event that they can no longer afford to purchase all the food a family needs.  Through our community partners, including Capital Area Food Bank and Maryland Hunger Solutions, we are also able to assist people in applying for the federal Supplemental Nutrition Assistance Program (SNAP) that provides a monthly stipend for food purchases. Manna's weekend bag program provides an additional amount of food for families with school-aged children and, of course, the government provides income-based free or reduced-price breakfast and lunch as well.  These programs and others (both government-run and non-profit) form a crucial safety net that supports us if we fall on hard financial times.
Unfortunately, as depicted in American Winter, many families get trapped in this net unable to gain enough footing to return to a state of self-sufficiency.  The wish, as stated in the film, is that the net be more like a big trampoline that will not only prevent people from falling to the bottom but will provide the tools to allow them to bounce back up to the top.  Manna Food Center is one organization that specializes in one particular social service.  We provide a quality food assistance package to anyone who needs it, but we know our clients need much more than just that.  Indeed, real change necessitates more than social safety net programs that give a much needed hand out but are not always able to give that crucial hand up.   This will take a broad recognition and commitment to the truth that it is only when our neighbors are able to reach their full potential that a community, a county, can as well.
We at Manna Food Center are eager to hear what you think.
What can we do as a food bank to move beyond the safety net and truly help our community thrive? What can we do as a county?
-Jenna Umbriac, Director of Nutrition Programs