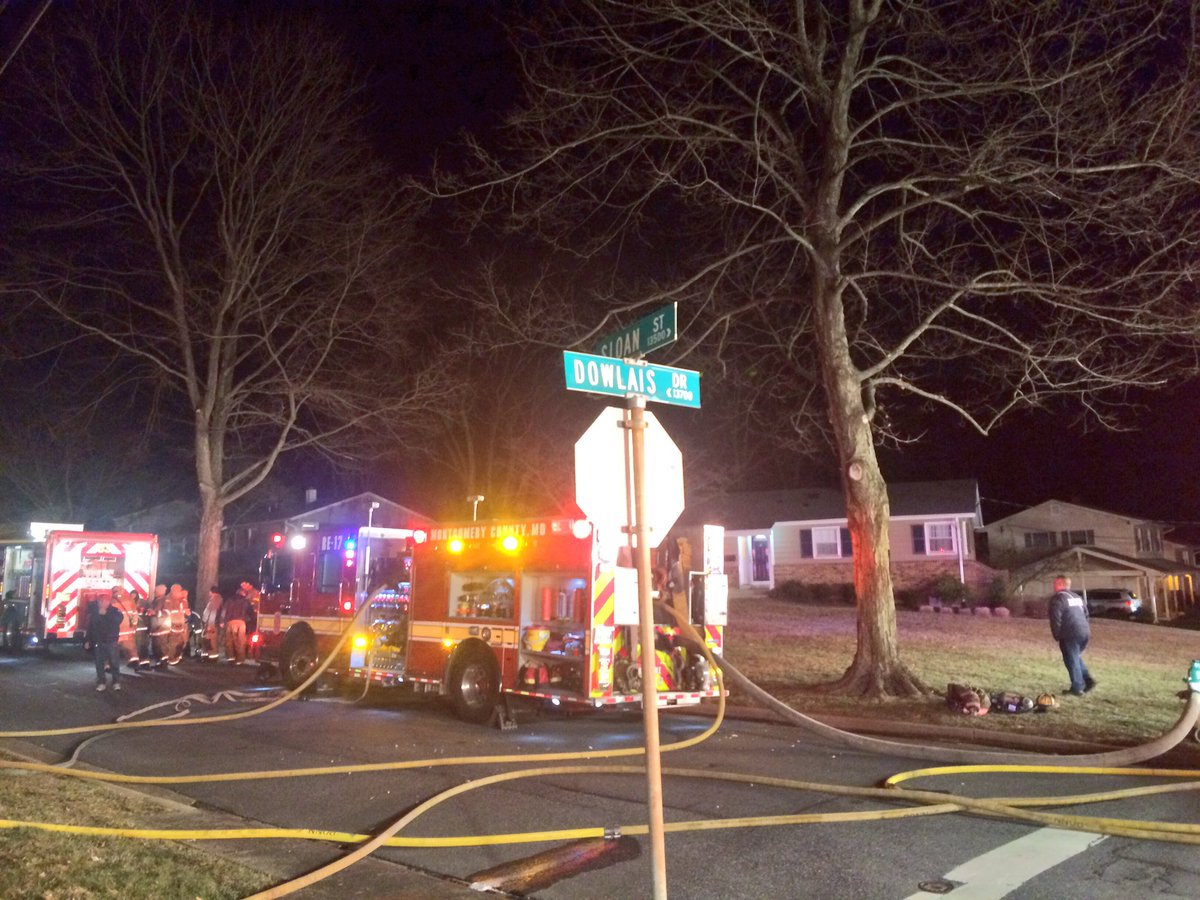 Multiple Fires Displace Several Residents in Rockville and Glenmont
Four residents were displaced following a house fire on the 2800 block of Urbana Drive in Glemont Saturday evening.
Firefighters with the Montgomery County Fire and Rescue believe the fire started in a second floor bedroom where a window air conditioning unit caught fire. The air conditioning unit dropped to the ground and caused the siding of the house to catch fire as well. The fire extended to the roof and attic area, according to investigators.
Units arrived to the scene around five in the evening. No injuries were reported. Investigators estimate roughly $35,000 worth of damage.
Later Saturday evening, 75 firefighters responded to the 13700 block of Dowlais Drive in Rockville for a reported house fire.  Investigators believe wiring issues on the outside of the home cause the fire. It took units roughly a half an hour to contain the fire.   A family of three and one dog were displaced. No injuries were reported, according to Pete Piringer,  spokesperson, Montgomery County Fire and Rescue. Officials estimate roughly $400,000 worth of damage.
Update – Urbana Dr, bedrm & contents w/ extension outside, fire is out, no injuries, ~35 FFs OS, 1 family displaced pic.twitter.com/rhfHxdFxZO

— Pete Piringer (@mcfrsPIO) February 4, 2017
Update – 2815 Urbana Dr, Glenmont; Probable Cause, electrical device malfunction; Origin Area, 2nd Fl bedrm, Damage>$35K; 4 adults displaced pic.twitter.com/2O3SShcUSP

— Pete Piringer (@mcfrsPIO) February 5, 2017
Update – 13700blk Dowlais Dr, Aspen Hill, bulk of fire knocked on lower levels, incl basement & 1st fl, FFs getting to fire in attic pic.twitter.com/3viuyifDm0

— Pete Piringer (@mcfrsPIO) February 5, 2017
Dowlais Dr, 2-sty house, significant damage, 2 occupants & dog got out, ~65 FFs OS, 1 fam displcd, Red Cross assisting 2adults 1child & dog pic.twitter.com/1vEnGxewy3

— Pete Piringer (@mcfrsPIO) February 5, 2017