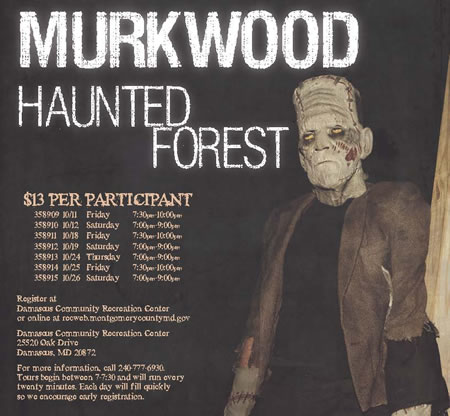 Murkwood Haunted Forest Opens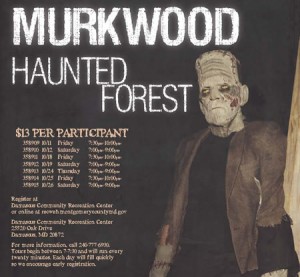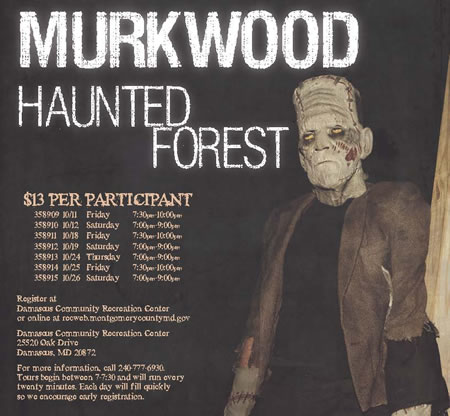 The Haunted "Murkwood" Forest at the Damascus Community Recreation Center is now open for visitors looking for a scare. The popular Halloween attraction features guided tours through such scary scenes as ghosts flying, witches brews being made, Frankenstein and his bride playing chase and zombies dancing at a bonfire. Tickets are $13. Register at Damascus Community Recreation Center or online at recweb.montgomerycountymd.gov.
Not recommended for children under eight years old. Parents must accompany children under 12 years. Individuals with adverse effects to strobe lights, smoke machines, sudden noises, extreme darkness or the sight of blood are advised not to attend. This is an outdoor event, so closed-toed footwear is recommended.
For more information, call 240.777.6930. Tours begin between 7 – 7:30 p.m. and will run every twenty minutes. Each day will fill quickly so we encourage early registration.
Schedule:
358911 10/18 Friday 7:30 p.m. – 10 p.m.
358912 10/19 Saturday 7 p.m. – 9 p.m.
358913 10/24 Thursday 7 p.m. – 9 p.m.
358914 10/25 Friday 7:30 p.m. – 10 p.m.
358915 10/26 Saturday 7 p.m. – 9 p.m.