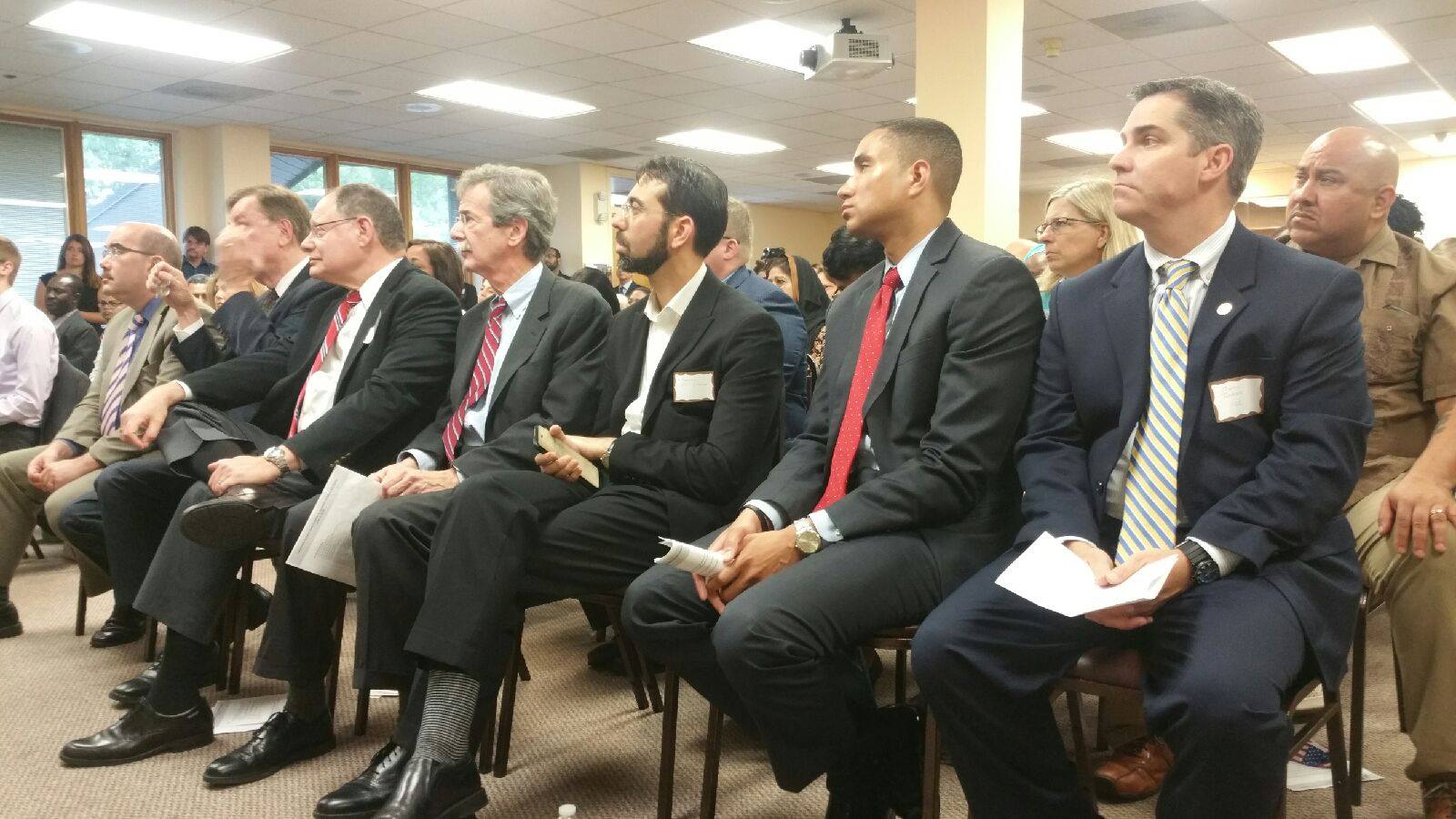 Local Muslim and LGBTQ Leaders Hold Solidarity Event in Montgomery Village (VIDEOS & PHOTOS)
Prayers led by an imam, a reverend, and rabbi were held at a gathering hosted by local Muslim and LGBTQ leaders to condemn violence a day after the the worst mass shooting in United States history that happened at gay night club in Orlando Florida.
Dozens filled a room at the International Cultural Center in Montgomery Village, as residents, local officials, and interfaith leaders reflected on the impact of the tragic shootings and advocated tolerance. MyMCMedia's Maureen Chowdhury reports.
"We are gathered here today, Muslim and non-Muslim, gay and straight to remember the 49 lives lost…and to stand in solidarity with one another as fellow creations of God. Regardless of how we know God and how we honor God. We have gathered to hold hands to make prayer and to break bread tonight  " Hamza Khan, chair of the Muslim Democratic Club of Montgomery County, said. "The Muslim community is heartbroken at the horrifying events that have occurred in Orlando, Florida this past weekend. We cannot begin to express the grief and outrage from within our hearts. Our prayers are with the victims and their families. Community leaders from every walk of life are here today, to part in our solidarity event and iftaar tonight," he said.
Director of Montgomery County's Office of Human Rights James Stowe asked the audience "Why does it have to come to this place, where we realize that this is [really] what it means to be a united community?" during his speech at the event. You can watch his remarks in the MyMCMedia Extra video, below.
Officials also remembered the lives lost during Sunday's tragic shooting, as their names were read a loud one by one.
The sponsors for this event include the Islamic Society of Germantown, Haneefiya Islamic Center of America, Muslim Democratic Club of Montgomery County, IMAAM, Young Leaders Institute, WORDE, FreeState Legal, Equality Maryland, American Muslim Peace Initiative, American Muslim Women's Empowerment Council, Episcopal Church of the Ascension-Silver Spring, Center for Democracy and Human Rights in Saudi Arabia, Indonesian Center of North Virginia, Bawa Muhaiyaddeen Foundation, and the  Inayat Begum Foundation.
we