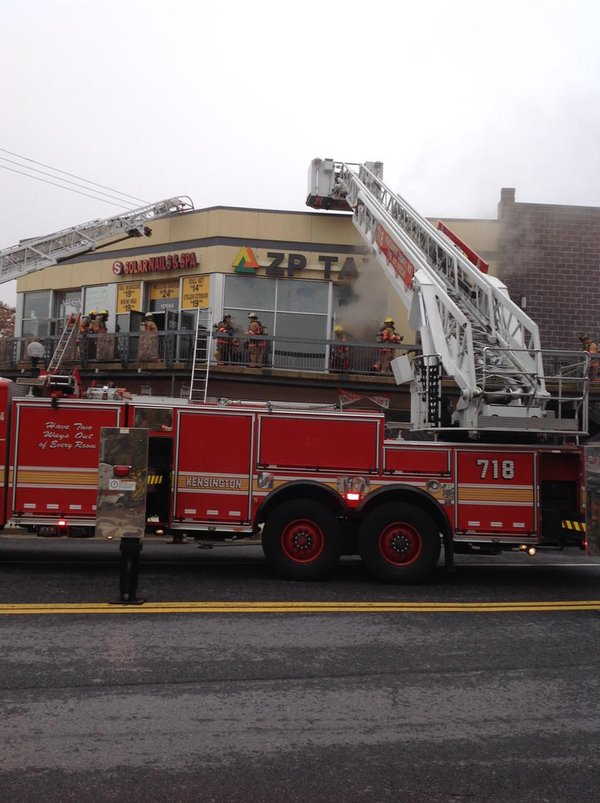 Fire Causes $500,000 in Damages at Nail Salon in Wheaton (PHOTO)
UPDATED  A fire at the Solar Nail Salon at 11204 Grandview Avenue in Wheaton has caused an estimated half a million dollars in damages, according to a Montgomery County fire and rescue spokesperson.
Fire and Rescue Services Spokesperson Pete Piringer said the cause of the fire was ruled accidental and believed to be related to a heating pot for hot wax. Piringer said firefighters believe the fire was smoldering for some time and caught some nearby combustibles on fire. The blaze was discovered at 10 a.m. on Thursday, according to Piringer. He said the fire caused extensive damage and climbed the walls to the ceiling. Firefighters encountered heavy smoke when they first arrived on scene, according to Piringer.
There were no injuries at the fire, Piringer said but the business is now closed.
Update – Grandview Av, FFs checking extension in adjacent occupancies (exposures). No injury, bldg evacuated pic.twitter.com/VQOsUUbhxi

— Pete Piringer (@mcfrsPIO) November 5, 2015
ORIGINAL POST
Montgomery County Fire and Rescue are investigating a building fire in Wheaton.
MCFRS Spokesperson Pete Piringer said the fire occurred in a nail salon on 11204 Grandview Avenue.  The fire was in the ceiling and roof of the building, which was evacuated with no injuries.
Firefighters checked the extension in floors, walls, ceiling, and exposures in the nail salon and extension in adjacent buildings.
Update (10a) 11204 Grandview Av, Solar Nail Salon; Cause, accidental, related to heating pot; Damage, >$500k; no inj pic.twitter.com/dJO1CJUgrK

— Pete Piringer (@mcfrsPIO) November 5, 2015
Update – Grandview Av, FFs checking extension in adjacent occupancies (exposures). No injury, bldg evacuated pic.twitter.com/VQOsUUbhxi

— Pete Piringer (@mcfrsPIO) November 5, 2015
Update – Grandview Dr, FFs checking extension in floors, walls, ceiling & exposures, no injury, fire under control, clearing smoke

— Pete Piringer (@mcfrsPIO) November 5, 2015
Update – Grandview Av, Wheaton, bulk of fire knocked down, FFs checking for extension, smoke condition being cleared — Pete Piringer (@mcfrsPIO) November 5, 2015
Update – Grandview Av, nail salon, fire in ceiling/roof, bldg evacuated — Pete Piringer (@mcfrsPIO) November 5, 2015
11204 Grandview Avenue, building fire

— Pete Piringer (@mcfrsPIO) November 5, 2015