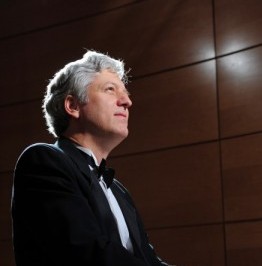 National Philharmonic at Strathmore
Pianist Brian Ganz and the National Philharmonic, directed by Guest Conductor Michael Dworzńyski will perform two concerts at the Music Center at Strathmore. The concerts will feature the first Washington performance of the Bajka (Fairytale) Overture by Stanisław Moniuszko, generally considered the father of the Polish national opera, as well as Ganz's interpretation of Chopin's Piano Concerto No. 1. The concerts will honor Polish WW II war hero, Jan Karski on the 100th anniversary of his birth. The recognition of Karski's efforts to expose the Holocaust to the Allies will be led by Polish Ambassador to the United States, Ryszard Schnepf. The concerts will take place on Saturday, March 8 at 8 pm and on Sunday, March 9 at 3 pm. Children between the age of 7 and 17 are free. For more information or to purchase tickets, visit
National Philharmonic website
or call 301.581.5100.
Program:
Montuszko Bajka (Fairytale) Overture
Chopin Piano Concerto No. 1
Mozart Symphony No. 39
Guest Conductor Maestro Dworzyński is the recently appointed music director of the Krakow (Poland) Philharmonic. Dworzyński has received numerous accolades for his commitment to the international promotion of composers from his native Poland. He studied in Warsaw with Antoni Wit and in Berlin with Christian Ehwald and, at 21, was appointed Assistant Conductor of the National Polish Radio Symphony Orchestra.
Chopin's Piano Concerto No. 1 features Brian Ganz as soloist. Ganz, a familiar face at the Strathmore, is nearing the halfway point in his decade-long "Extreme Chopin" quest to perform all of Chopin's approximately 250 works. "The Concerto No. 1 was the first work of Chopin for piano and orchestra I ever performed," Ganz notes, adding that the concerto is his favorite among the works for piano and orchestra of the composer, a native of Poland who was a major contributor to the countries culture.
Symphony No. 39, by Chopin's favorite composer, Wolfgang Amadeus Mozart, completes the program. Chopin admired the simplicity of Mozart's compositions, according to Ganz, who called Mozart "the most economical composer who ever lived." The popular Symphony No. 39 is one of Mozart's last symphonies, combining the style of Bach and Handel with the clarity of Classicism.

A free pre-concert lecture will be offered in the Concert Hall at 6:45 p.m. on March 8; 1:45 p.m. on March 9.
Children age 7-17 are free. Please call the Strathmore Ticket Office directly at 301.581.5100 to purchase free tickets as they are not available for online purchase.