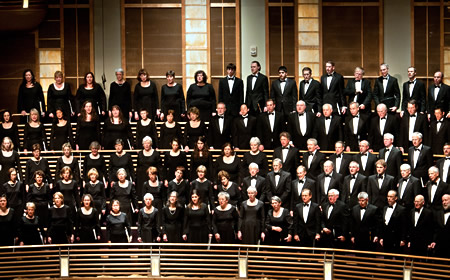 National Philharmonic: Bach's St. John Passion at Strathmore
The National Philharmonic orchestra and chorale led by Victoria Gau will perform Bach's St. John's Passion April 11 at 8 p.m. at the Music Center at Strathmore, 5301 Tuckerman Lane, North Bethesda. A free pre-concert lecture will be offered in the Concert Hall at 6:45 p.m.
Bach's St. John Passion remains one of the most deeply affecting and riveting masterworks in this genre. It is a rich, highly dramatic portrayal of the Biblical passion story using soloists, chorus and a colorful baroque orchestra, featuring rarely heard archaic instruments including the lute and viola da gamba. The radiant purity of sound in this emotionally expressive work shines in poignant arias, powerful choruses and gentle, reflective chorales.
The work has been a constant in the United States since June 5, 1888, when Dr. J. Fred Wolle led the Choral Union of the Moravian town of Bethlehem, PA (now the famed Bethlehem Bach Choir) in the first of many such performances. St. John, the earlier of Bach's two surviving Passions (musical settings of biblical accounts of the sufferings and death of Jesus), is still heard less often than its ostensibly more refined counterpart, the St. Matthew Passion, but its clarity and fervency give it undeniable emotional appeal.
"Bach's St. John Passion is full of remarkable and powerful contrasts," says Ms. Gau, who is conducting the April performance. "His Lutheran conviction that we all are simul justus et peccator (simultaneously justified and sinful) plays out throughout this taut, dramatic work as Bach asks the same singers to perform the roles of the Roman soldiers, the angry crowd, and the penitent congregation. By driving home these deeply contrasting states of being, he makes the drama that much more raw and personal, creating an incredibly moving work of operatic proportions."
Tickets start at $28 and may be purchased online at National Philharmonic website or by calling 301.581.5100. Children ages 7 through 17 are free, but do require tickets. Free children's tickets must be reserved by calling 301.581.5100 or visiting the Strathmore Box Office.
Program:
Bach     St. John Passion
featuring
Rosa Lamoreaux, soprano
Magdalena Wór, mezzo-soprano
Rufus Müller, tenor
Matthew Smith, tenor
Andrew McLaughlin, baritone
Christòpheren Nomura, baritone
National Philharmonic Chorale
Victoria Gau, conductor