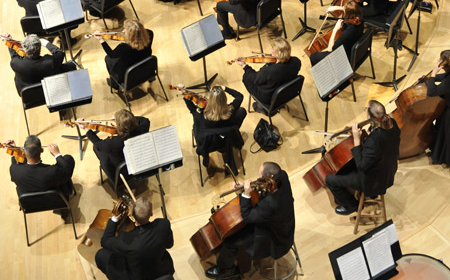 National Philharmonic: Carmina Burana
The National Philharmonic will perform Carmina Burana on June 8 at 8 p.m. at the Music Center at Strathmore, 5301 Tuckerman Lane, North Bethesda. Carl Orff's Carmina Burana blends secular medieval texts with melodies and rhythms to create an unforgettable concert. Witold Lutoslawski, Poland's most celebrated composer of the last century, traced his musical roots to Debussy and Stravinsky. These influences are heard in his evocative 1963 work, Three Poems by Henri Michaux, featuring the National Philharmonic Chorale in a stirring Washington-area premiere.
Tickets are $37 – $84 and may be purchased online at Strathmore website or by calling 301.581.5100.
This performance will also be held on June 9, 2013 at 3 p.m.
Audrey Luna, soprano
Robert Baker, tenor
Leon Williams, baritone
National Philharmonic Chorale
Stan Engebretson, conductor
Victoria Gau, conductor
Choralis Youth Choir
A free pre-concert lecture will be offered in the Concert Hall at 6:45 pm on June 8; 1:45 pm on June 9.
Program:
LUTOSLAWSKI
ORFF
Three Poems by Henri Michaux
Carmina Burana
Young people age 7-17 attend all National Philharmonic concerts at the Music Center at Strathmore free of charge, making it easy for families to go to concerts together and for young adults to attend a live classical music performance with friends. KIDS FREE tickets may be obtained IN PERSON at the Strathmore Ticket Office or BY PHONE at 301. 581.5100.
PLEASE NOTE: KIDS FREE tickets cannot be ordered online. Refunds will not be issued for tickets purchased online for children ages 7-17.