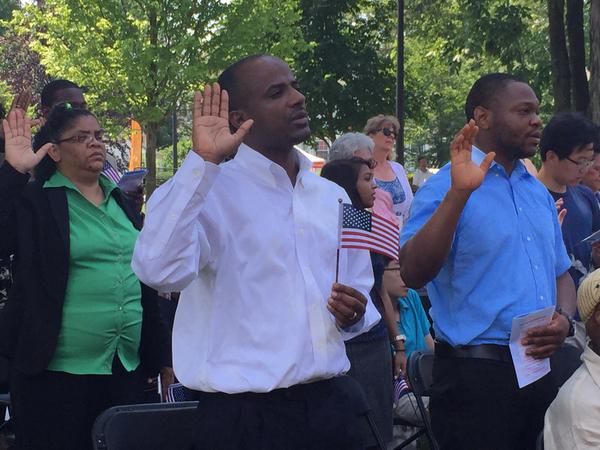 UPDATED: Naturalization Ceremony at Celebrate Gaithersburg Festival (PHOTOS)
The grounds of Gaithersburg City Hall was the setting for a naturalization ceremony for 43 new American citizens from 23 countries on June 14th at the Celebrate Gaithersburg festival.
Gaithersburg Mayor Jud Ashman and Councilmembers presented the new citizens with American Citizenship certificates.
The new citizens were also encouraged to register to vote after the ceremony.
Below are some photos from the ceremony:
"Diversity is one of the factors that make our country what it is today" USCIS official. pic.twitter.com/e9XPeZtieq

— Aline Barros (@AlineBarros2) June 14, 2015
ORIGINAL POST: New citizens will be naturalized during a special ceremony on June 14 at the Celebrate! Gaithersburg Festival.
U.S. Citizenship and Immigration Services officials, along with state, county and city officials will host a naturalization ceremony for 43 people at the City Hall Concert Pavillion Stage.
Naturalization candidates are from Brazil, Cameroon, China, Dominican Republic, El Salvador, Ethiopia, Ghana, Haiti, India, Jamaica, Kenya, Liberia, Malaysia, Mexico, Nigeria, Pakistan, the Philippines, Russia, South Korea, St. Lucia, Sudan, Sweden, the United Kingdom and Vietnam.
According to Denise Kayser, arts and event division chief at the City of Gaithersburg, the naturalization ceremony will last 45 minutes, and it will kick off the 33rd Annual Celebrate! Gaithersburg Festival.
"Additionally the artist-created Locomotive Bike Rack has arrived and will be installed near the Train Station, ready to be unveiled during the festival immediately following the USCIS Ceremony," Kayser said.
The festival begins at noon and will feature children activities, live performances and more.
"We are very excited by all the wonderful things planned for this year's event, including a number of fabulous headliner bands on two Main Stages, a Multicultural Stage, the Taste of Gaithersburg, Dogfish Ale House, a Classic Car Show, the Steampunk Experience, and lots of great activities," she said.