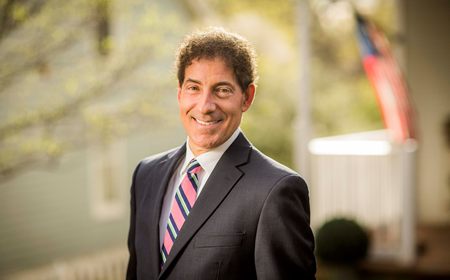 NEA Endorses Jamie Raskin for Congress
The National Education Association's political action committee, the NEA Fund for Children and Public Education, endorsed
Jamie Raskin
for Maryland's 8th Congressional District today.
"Jamie Raskin is a true progressive leader with impressive experience who realizes the importance of public education in the lives of working families," said NEA President Lily Eskelsen García. "With unprecedented gridlock in Washington, Jamie offers an impressive record of producing breakthrough policy results and we need to put his talent to work to build consensus for progress in Washington. We can count on his values and we can count on his legislative expertise."
According to a news release, Raskin has made public school funding and reducing standardized testing—the two biggest K-12 concerns for both educators and the general public in Maryland—essential priorities in his campaign for Congress and throughout his time in the Maryland General Assembly.
"As a fellow educator, a law professor for 25 years, and a passionate advocate for public education, I consider this an honor beyond measure" Raskin said. "Everywhere I go in Montgomery, Frederick and Carroll Counties, I meet hard-working teachers who want to dramatically improve educational results and end the obsessive focus on testing that has squeezed out so much creativity and learning in the classroom."
Emerging from a field of eight candidates, Raskin won support from educators through a lengthy endorsement process open to all candidates. The Maryland State Education Association (MSEA) invited all announced candidates to complete questionnaires and sit for candidate interviews with a team of educators from across the 8th Congressional District, which includes parts of Montgomery, Frederick, and Carroll Counties. The MSEA Board of Directors and the NEA Fund for Children and Public Education Steering Committee then adopted their recommendation.
"You don't get much more of a proven champion for public education than Jamie Raskin," said MSEA President Betty Weller. "He has always understood Maryland's special commitment to public schools and we can count on him to fight for students and educators in the halls of Congress."
The NEA Fund for Children and Public Education, the NEA's national political action committee, provides direct financial support to candidates for president, U.S. House, and U.S. Senate who will fight to support teachers, staff, and students and improve public education. MSEA—the state affiliate of NEA—represents more than 71,000 educators, making it the largest union and professional association in Maryland. It has become famous for mobilizing thousands of educators to promote endorsed candidates at polling places across Maryland with the Apple Ballot.
The primary election is set for Tuesday, April 26.