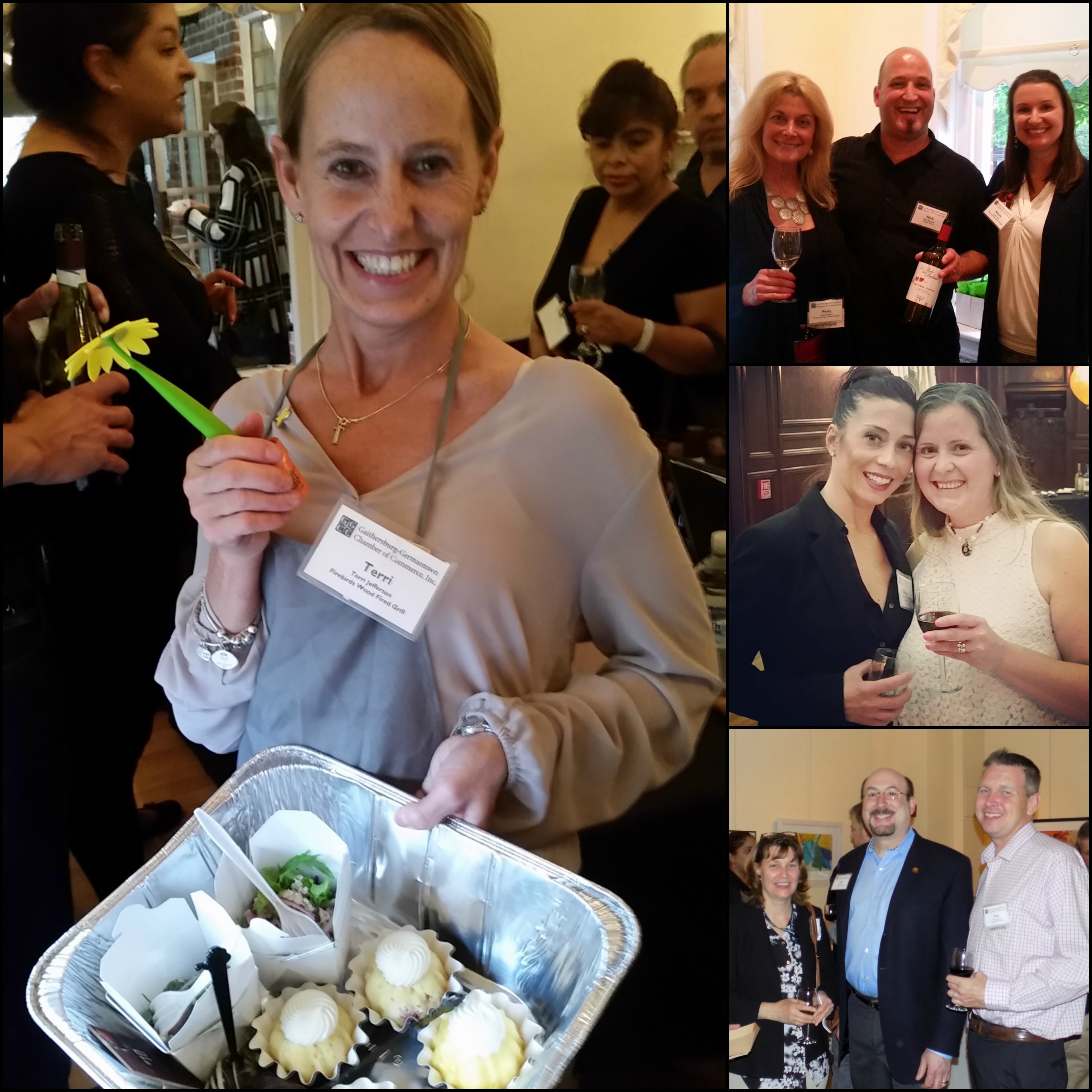 All You Need: A Glass of Wine & Networking with the GGCC
Attending a wine tasting will broaden your horizons. Not only do you get to taste great wine that you may not have otherwise tried, but you will get try a lot of delicious food too.
The Gaithersburg-Germantown Chamber of Commerce (GGCC) will hold its 15th Annual Wine Tasting on Thursday, May 17, 2018 from 5:30-7:30 p.m. at the Kentlands Mansion 320 Kent Square Road, in Gaithersburg. Over 100 area business leaders will be in attendance. Our wine tasting is one of the best ways to meet ideal prospective clients & grow existing business relationships.
"Not only is this a great networking event, but it is always a way to sample some of our top restaurants paired with some fantastic wines. Everyone loves this event," said Marilyn Balcombe, GGCC President.
The event sponsors include: The City of Gaithersburg, Pinky and Pepe's Grape Escape, The Melting Pot Gaithersburg, Nothing Bundt Cakes, Barking Mad Cafe, Caribbean Caterers, Firebirds Wood Fired Grill, and Asia Nine. Additionally, our Special Event Sponsor's are Bargain Movers & Crown Trophy.
This year's wine tasting will feature a guided wine tasting tutorial of six featured wines compliments of Pinky & Pepe of Pinky and Pepe's Grape Escape. Wine is complicated, Pinky & Pepe make it simple. They love wine and like to change the way people view wine. Come and enjoy the experience.
As an added bonus, attendees will receive a special discount coupon to use that week in the Pinky and Pepe's Grape Escape Kentlands store. Side note: we have sodas and water for those not partaking in the wine tasting portion of the event; but please come and enjoy the food.
The wine will be paired with delicious food from Firebirds Wood Fired Grill, Caribbean Caterers, Barking Mad Cafe, and Asia Nine. Bundtinis from Nothing Bundt Cakes and fresh strawberries dipped in chocolate will be served compliments of the Melting Pot Gaithersburg.
DrinkMore Water will provide bottle water.
The City of Gaithersburg generously donates the use of the Kentlands Mansion to the GGCC for the evening.
This is a great opportunity to grow & improve your wine knowledge & your networking connections respectively. So, grab a friend, your colleagues, or your significant other and make plans to spend the evening of May 17th with the GGCC. Even if you don't end up with a single new client, you and your guests will have had a nice night out, met some cool new people, and shared in a great experience.
Want to attend?
Registration: Must register online at: https://goo.gl/d56Uis.
Cost: Tickets are $35 for GGCC Members & First-Time Visitors; and $65 for Returning Non-Members. Each ticket includes a wine-tasting glass and tastings.
Registration Deadline: May 14.
The GGCC is active in providing business-to-business networking opportunities throughout the year: a collective voice in local, regional, and state legislative affairs, professional development opportunities and other services that enhance the business environment.
The GGCC is located at 910 Clopper Road, Suite 205N, Gaithersburg, MD. To learn more about the GGCC visit us at www.ggchamber.org. Find us on Facebook at: http://www.facebook.com/pages/Gaithersburg-Germantown-Chamber-of-Commerce/64339954570. #GGCCevents #GGCCwinetasting