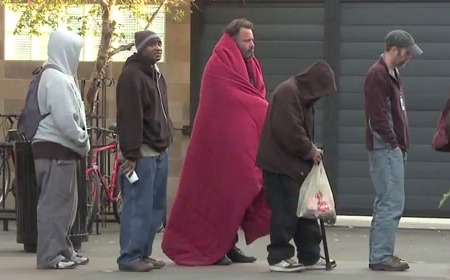 UPDATE: New Building Allows Local Nonprofit to Help Take Homeless off the Streets (VIDEO)
Updated: It's been one year since Interfaith Works moved into Progress Place, a county-owned facility that houses nonprofits like Shepherd's Table and Interfaith Works.
"We're really excited about how far we've come in a year," Christine Hong, director of homeless services at Interfaith Works, said. "We were able to house 21 of the most vulnerable, homeless individuals, upstairs on the fourth floor. We did it in a matter of months."
And its support from Montgomery County officials and the community that have made some success stories possible.
"These are people who have been homeless, some of them for decades and to know that we ended homelessness for those individuals has just been such an exciting accomplishment for all of us," said Hong.
In addition to housing, Interfaith Works offers vocational services and job-readiness classes; access to laundry and showers; and a warming center for extreme cold weather.
"Our hypothermia season has been receiving 70 to 80 people per night. That's both men and women that are receiving services at our overnight shelter," saidKacy Barker, program director for Interfaith Works.
Interfaith Works is working with community partners to try to make Montgomery County the lowest poverty rate county in Maryland.
"That's a huge goal but we're really well poised to do that," Hong said. "We have a very strong vocational services team to help people increase their earned income and we also have a brand new program called Interfaith Works connections which helps to prevent families fall deeper into poverty by connecting them to other resources."