New Business Owner Talks About the Help She Got from the Small Business University Event (Video)
Montgomery College student and new business owner Fatoumata Conte attended the Small Business University event headlined by media consultant and public relations executive with Van Eperen & Company, Steve Simon at the television studios of Montgomery Community Media on August 21.
She said the event helped her network with people and get advise on her effort to launch Golden Fyc, an African dance exercise business.
She talks about the experience in this MyMCMedia extra.

Related:

Montgomery College student and new business owner Fatoumata Conte attended the Small Business University event headlined by media consultant and public relations executive with Van Eperen & Company, Steve Simon at the television studios of Montgomery Community Media on August 21. She said the event helped her network with people and get advise on her effort to […]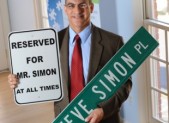 Media consultant and public relations executive, Steve Simon of Van Eperen & Company, headlined the Small Business University event at the television studios of Montgomery Community Media on August 21. Simon's address focused on the role of public relations when it comes to building a business's brand. Simon also gave some advice when it comes […]