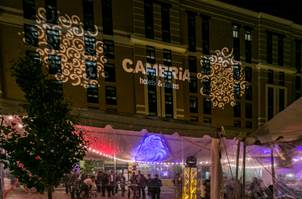 New Cambria Hotel & Suites Grand Opening Celebration in Rockville (VIDEO & PHOTOS)
UPDATED, Oct. 8, 2:05 p.m.– There is a new place to stay in the City of Rockville.
Actually, it has been open for several months, but Choice Hotel owners are now just celebrating the arrival of their newest hotel at Helen Heneghan Way.
In this MyMCMedia Extra, take a look at a grand opening party held on Oct. 5 that attracted the business community and local leaders.
Cambria representatives said they "typically" wait to host a grand opening until a property has been open for several months.
So how is the business doing? Hotel executives are not saying but at a campaign event last month Rockville Mayor Bridget Newton noted its popularity.
"At Cambria, we look to provide business and leisure travelers with stylish, affordable lodging with upscale service. What better way to introduce this rapidly-growing brand to the City of Rockville than with an exciting, carnival-themed celebration? Rockville is our home, and Choice Hotels is thrilled to bring our Cambria hotels & suites brand to city residents and the guests of the more than 100 large companies in the area," said Steve Joyce, president and CEO of Choice Hotels.
Hotel officials added "Cambria Rockville is one of the brand's top five hotels in terms of guest satisfaction—an amazing accomplishment for the newest hotel in the portfolio."
Don Swedberg, Cambria's general manager, said the hotel brings more than 40 jobs to the City of Rockville.
"We've actually brought into the community, to the city, 50 plus thousand dollars worth of tax revenues that weren't there before. And just under 200 thousand in tax revenues for Montgomery County. … We've also been able to provide a service in downtown Rockville that previously wasn't here. The closest hotel to us right now is really one and half miles away," Swedberg said.
According to a news release, the 140-room hotel features eight floors in a 15-story west tower of the Rockville Town Square. A parking garage was built into the building's structure, which gives guests a place for parking. In addition to the Cambria hotel, the complex is also home to 40,000 square feet of street-level retail space.
"We're excited to partner with Choice Hotels in opening Cambria hotel & suites Rockville, allowing us to not only provide lodging for the Rockville community and their guests, but also for travelers visiting Washington, D.C., just 15 miles away. Rockville has a great and expansive history and we look forward to being part of the city's future," said Marc Dubick, president of Duball, LLC.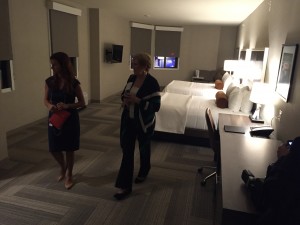 Hotel officials also showcased the latest in Cambria's technology. Guests can stream content directly to the television in their rooms.
And with a new hotel comes a new street: Helen Heneghan Way.
Heneghan, a former city advisor, was honored with a new street that runs along the hotel.
Newton, who was in attendance at the celebration, said "Helen was great in getting things done" and she thanked hotel officials for not adding a new restaurant inside the building, which gives visitors a chance to discover restaurant options available at the town center.
Choice Hotels, which built the Cambria Suites, is headquartered across Middle Lane in Rockville.
We had the best time at the grand opening of our new #Cambria in Rockville, MD. http://t.co/IYYBUxxE1k pic.twitter.com/DY6oKBbRRt

— Choice Hotels (@ChoiceHotels) October 7, 2015
Mayor Bridget Newton says the street honors a mentor to many people. "Helen was great in getting things done." pic.twitter.com/MTzRYkOmZ2

— Aline Barros (@AlineBarros2) October 5, 2015
263 units, new bank, Panera Bread is also coming to #Rockville Town Center. pic.twitter.com/GNg6kXcQ5G

— Aline Barros (@AlineBarros2) October 5, 2015
All paintings and photos inside the Choice Hotels are from #Rockville artists. pic.twitter.com/Np8rZSNO0v

— Aline Barros (@AlineBarros2) October 5, 2015