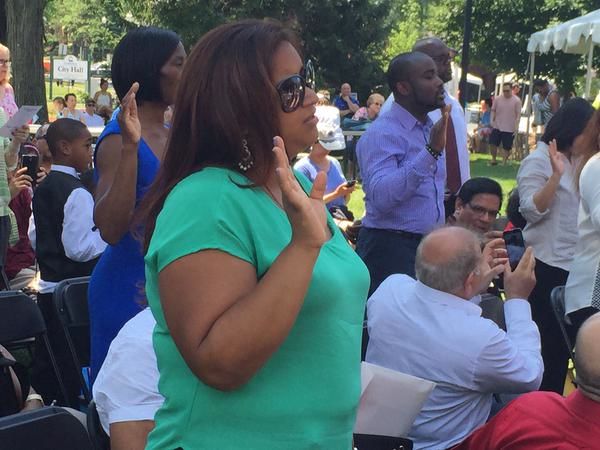 New Citizens Take Oath At Naturalization Ceremony in Gaithersburg (VIDEO)
Cyrus Kamara lives in Germantown. He has been a Montgomery County residents for more than 10 years. On June 14, he watched his mother, Matilda Kamara, become an American citizen during a naturalization ceremony for 43 people at the Celebrate Gaithersburg Festival.
Naturalization candidates were from Brazil, Cameroon, China, Dominican Republic, El Salvador, Ethiopia, Ghana, Haiti, India, Jamaica, Kenya, Liberia, Malaysia, Mexico, Nigeria, Pakistan, the Philippines, Russia, South Korea, St. Lucia, Sudan, Sweden, the United Kingdom and Vietnam.
"It was [an] emotional and very happy moment … These are so many of the things that make this country really powerful … and we all have allegiance to this country," Kamara said adding the family moved from Liberia and ceremonies like this shows the nation's diversity.
According to U.S. Citizenship and Immigration Services (USCIS) website, a candidate is eligible for American citizenship after holding a permanent residency or Green Card for at least five years. Being legally married to an American Citizen and holding a Green Card for three years or more. A child, born outside the United States, but has at least one parent U.S. Citizen.
"Everyone has their own story, and each story is unique and special. And to a person that becomes a citizen; [this] is a very valuable and special experience for them," said Bari Myers, supervisor at the Immigration Services Office.
Myers added that USCIS office hosts approximately two naturalization ceremonies in Baltimore every day. Three to four days a week; and up to eighty people participate in each ceremony.
Sue Mei Huang, 85, moved from China 10 years ago. With her granddaughter's help, she walked to officials, received the naturalization certificate and held up in the air- a moment that did not need translation.
"I feel really relieved. She joked around: I hope I get it before I die," said Wendy Qiu, Huang's granddaughter.