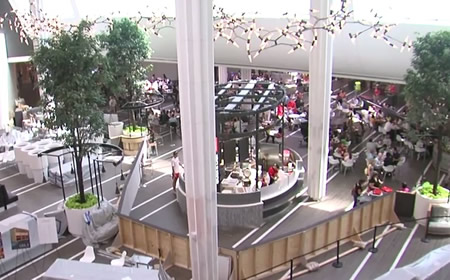 New Dining Terrace, Theater in Spotlight at Westfield Montgomery Mall (Video)
This is not your mother's mall food court.
The Westfield Montgomery Mall is showing off its soon-to-open dining terrace which features casual food options, mature trees, high ceilings and an airy environment, all part of a $90 million mall renovation project.
Mall officials gave an inside peek Wednesday to the project that is bringing new restaurants, a family lounge and a 16-screen ArcLight theater to this North Bethesda mall.
"What we really invested in is trying to give the Bethesda shopper and D.C. consumer that first-to-market. The consumer here is very into foods and fresh-to-market concept. What we never had here before is the stance we are a food, fashion, fun destination where you can get some great shopping in and go to an amazing eatery and see an amazing independent film or blockbuster at ArcLight," said Diego Gonzalez-Zuniga , marketing manager Westfield Montgomery.
Some of the restaurants headed to the mall as part of the renovation effort include:
Blaze Pizza- open now
Cava Mezze Grille- opening in November
Crave- opening in November
Lobster Me- opening in October
MET Bethesda- opening in October
The Westfield Corp. company recently launched an app called Dine on Time being tested at its West Coast properties that allows people to pre-order from the mall eateries for pick up or delivery. But don't look for it here just yet.
"Wee are looking at it here in Montgomery, but we are testing it first on the West Coast,"  Gonzalez-Zuniga told MyMCMedia Wednesday.
What can save shoppers time is a new park assist system located on the third level parking garage on top of the dining terrace wing. Westfield is installing the parking system that shows available spaces in this section of the mall first but may expand the system to the other parking garage areas.
A highlight of the renovation project at the mall is the ArcLight Cinema, opening in October, that will offer reserved seating, a cafe and bar, and question-and-answer sessions with producers and directors, according to Gretchen McCourt, executive vice president of ArcLight Cinemas. The theater will show independent films as well as blockbuster showings. Theater sizes range from 100 to 300 seats. Ticket prices are expected to run about 20 percent higher than average theater prices, McCourt said.
Related: