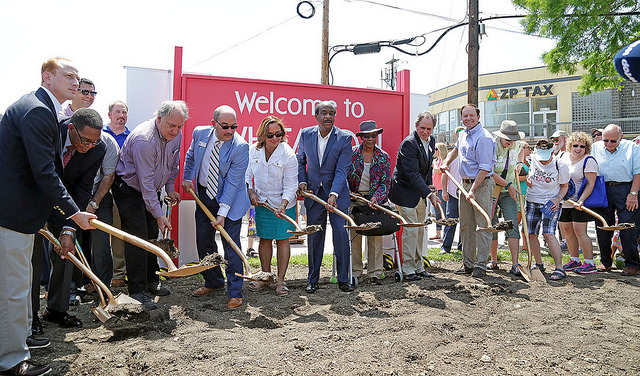 New Project Expected to Boost Wheaton's Downtown Economy
Montgomery County Executive Ike Leggett joined other county leaders during the Taste of Wheaton on Sunday to break ground for the Wheaton Revitalization Project, according to a news release.
"The Wheaton revitalization project includes offices, retail and a new Town Square to help make Wheaton an even more dynamic urban community," Leggett released in a statement. "This project also will save money by moving hundreds of County employees from leased space to a more cost-effective publicly owned building."
This new development project is expected to add 397 underground parking spaces, a 35,000 square-foot Town Square, public Wi-Fi, art sculptures and an open space for community gatherings and activities.
In addition, the new office building will house the new headquarters for the Maryland-National Capital Park and Planning Commission (M-NCPPC) and staff from six Montgomery County departments and agencies.
Joining Leggett at the special ceremony included Montgomery County Council members, officials from the Montgomery County Planning Board, the Department of Transportation, Health and Human Services and more.
"This project will bring office workers, a new community gathering space and more activity to the center of Wheaton, benefitting residents and longtime small businesses," said County Council President Roger Berliner.
Construction to this $170 million project is expected to be completed by 2020.
Click here to find out more information about Wheaton Revitalization.
Groundbreaking ceremony for the Wheaton Revitalization Project will start shortly! @WheatonMD @MoCoCouncilMD pic.twitter.com/ruqcHZB2JP

— Nancy Navarro (@nancy_navarro) June 4, 2017
Groundbreaking Ceremony Set for Wheaton Redevelopment Project