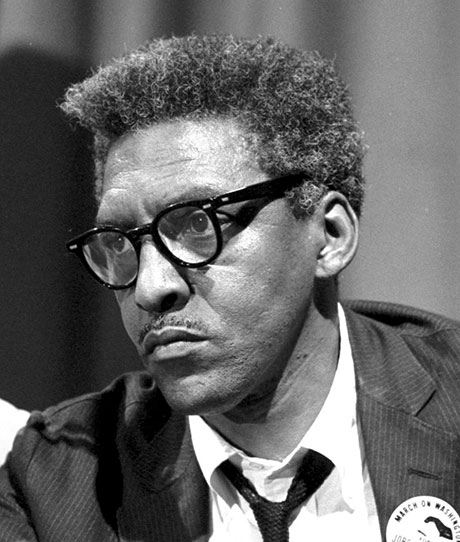 New School Named After Bayard Rustin, Who Is He?
During a passionate discussion that divided the Montgomery County school board, Richard Montgomery Elementary School #5 will be named after Bayard Rustin, a civil rights organizer and an openly gay black man.
The vote was 6-2 at Thursday's meeting.
Back in February, the Board of Education suggested four names to a School Naming Advisory Committee to be considered. In what the school district calls a "naming process," the 13-member committee included parents of students who will attend the school, community members, and the school's principal Rachel DuBois. The committee was tasked with gaining input from residents on the new school's name to recommend to the Board of Education for final approval.
After an approximately two-month process,  Lillian Brown, an author, community activist and educator, was the name presented to the board during Thursday's meeting. Brown was the granddaughter of slaves and was not able to attend junior or senior high school in Montgomery County because of racial segregation. She was the principal and sole teacher at the Germantown Colored Elementary School before finishing her career as public school teacher at Beall Elementary School in Rockville.
After hearing emotional testimony from residents, school Board Member Patricia O'Neil moved to name the school after Rustin.
Rustin is known to have a played a major role in the Civil Rights and Equality movements. He's widely  known for organizing, coordinating and marketing the 1963 March on Washington where Dr. Martin Luther King Jr. delivered his most famous "I Have a Dream" speech.
Filled with emotions, Jill Ortman-Fouse seconded the motion stating, "What can be more inspiring than showing our students that with everything stacked up against them, they can still persevere."
Naming the school after Rustin did come with opposition from some school board members.
Jeanette Dixon voted against naming the school after him along with School Board President Michael Durso.
Dixon's reason was due to technicalities with the naming process.
"I'm not voting against the name," she said. "I feel strongly about listening to the community and doing what the community asked us to do."
"I'm glad that the board is choosing to honor Bayard Rustin," said longtime resident and urban planner, Dan Reed. "In being true to himself and standing up for his convictions was an inspiration to me as a student, and sets an example for all students in MCPS. Especially queer and questioning students."
The school, at 332 W. Edmonston Drive in Rockville, opens in September of 2018 and is expected to alleviate capacity issues in the Richard Montgomery Cluster.
The @mocoboe votes to name new Richard Montgomery Elementary School #5 for Civil Rights activist Bayard Rustin.https://t.co/cHPCyICvzP

— MyMCMedia (@mymcmedia) April 12, 2018
.@mocoboe voted to name the new elementary school in the Richard Montgomery cluster Bayard Rustin Elementary School. Learn about the school's namesake: https://t.co/TxDUiNcGex

— MCPS (@MCPS) April 12, 2018