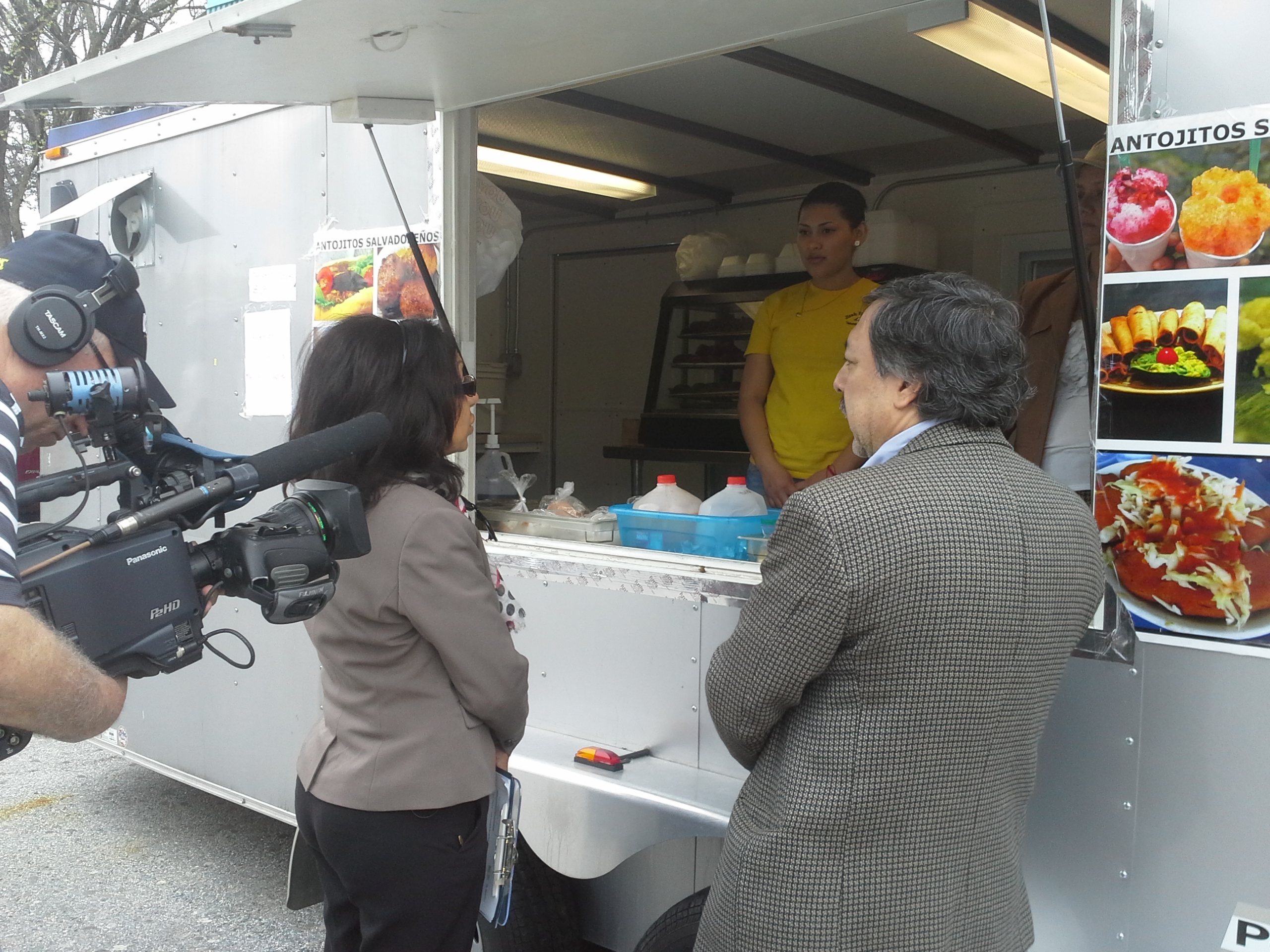 New 'Somos' Packed With Great Stories!
I invite you to check our latest clips from Somos Montgomery, our County Cable Montgomery award winning Spanish program with information on key issues before the Council and at the Latino community including stories on education, health, business, and urban development.
BUDGET 2016
On this episode we interview Council President George Leventhal on the FY16 budget and Councilmember Nancy Navarro who is the Chair of the Government Operations Committee.
VIDEO: BUDGET FY2016 VIDEO (en español)
  BUSINESS
We joined the Hispanic Chamber of Commerce of  Montgomery County during one of their famous 'walk  and meet' to flavor some of the small local businesses in the Langley Park area.
 VIDEO: HCCMC WALK & MEET (en español)
COMMUNITY
There is a museum making history with a contemporary issue is the Sandy Spring Museum with the bilingual exhibit Migrating Lives / Vidas Migratorias focusing on youth arriving to our county from all over the world, many of them unaccompanied.
HURRY UP THE EXHIBIT CLOSES MAY 31st!
VIDEO: VIDAS MIGRATORIAS AT SANDY SPRING MUSEUM (en español)
GRACIAS COMMUNITY! If you have a story for Somos, do not hesitate contacting me at: Julie.RiosLittle@montgomerycountymd.gov
Thank you Daniel Parra, Executive Director of the Hispanic Chamber of Commerce for your comment:
'Excelente trabajo. Ustedes siempre atentos a brindar a la comunidad la información que se necesita, en el momento oportuno". 
("Excellent work, you are always ready to bring much needed information to the community at the right time")
Gracias Beatriz del Olmo, curator of Migrating Lives / Vidas Migratorias
Muchas gracias por tomarte el tiempo de hacer el video y compartirlo! Las dos muchachas hablaron muy bien, y estamos muy orgullosas de ellas, gracias por darles esa oportunidad! Gracias por darnos la oportunidad a nosotras, Aileen y a mi, en dar a conocer y apoyarnos en el programa.
("Thank you for taking the time to make this video and share it! The two students spoke very well. We are very proud of them. Thank you for giving us this opportunity and to let people know of this program")