New State Farm Insurance Office Opens in Germantown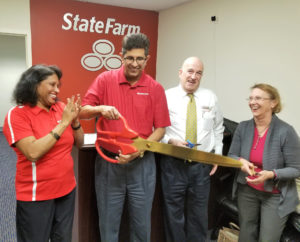 The Gaithersburg-Germantown Chamber of Commerce (GGCC) supported State Farm Agent Manny Pohani and celebrated the grand opening of his new office by conducting a Ribbon Cutting Ceremony on Wednesday, January 17, 2018. They are located at 20030 Century Boulevard., Suite 206, Germantown.
Manny Pohani offers State Farm insurance & financial products agency. Services include auto, home, property, business, life, and health insurance; as well as banking and annuity options. Pohani is committed to finding the right insurance and products for you and/or your business. Learn more about them at: www.insurewithmanny.com.
The GGCC is active in providing business-to-business networking opportunities throughout the year: a collective voice in local, regional, and state legislative affairs, professional development opportunities and other services that enhance the business environment.
The GGCC is located at 910 Clopper Road, Suite 205N, Gaithersburg, MD. To learn more about the GGCC visit us at www.ggchamber.org.
Find us on Facebook at: http://www.facebook.com/pages/Gaithersburg-Germantown-Chamber-of-Commerce/64339954570. Or on Twitter at: @GGCCNEWS.