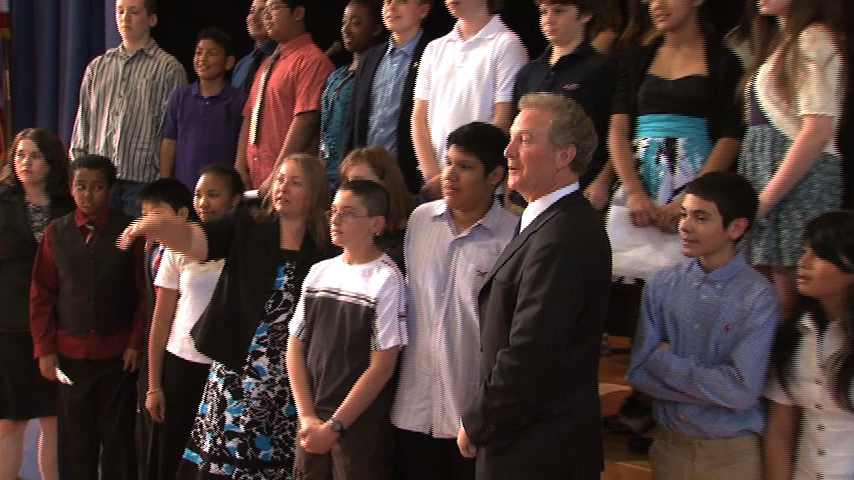 Newport Mill Middle School Receives Green Ribbon Award
Newport Mill Middle School was one out of two schools selected in the state of Maryland to receive the 2018 Green Ribbon School Award from the U.S. Department of Education.   Manchester Valley High School in Carroll County was the other school selected among the 46 schools in the nation to receive the prestigious honor.
The Green Ribbon Award is a federal program that recognizes schools that save energy, reduce costs, feature environmentally sustainable learning spaces, and offer environmental education to boost academic achievement, according to a news release.
"I'd like to congratulate the students, teachers, and families of Manchester Valley High and Newport Middle for their commitment to environmental awareness and stewardship," said Gov. Larry Hogan. "Their hard work and dedication will ensure that Maryland continues to lead when it comes to protecting our environment and serves as an example for schools across the nation."
The school's applications for the Green Ribbon Award was evaluated by state and national government agencies, regional environmental organizations, and private businesses.
"The dedication these Green Ribbon Schools have shown to practicing effective environmental education is inspirational," said Dr. Karen Salmon, superintendent of schools for the state of Maryland. "The positive outcomes and changes these schools create through sustainable practices reach far beyond the state of Maryland and set a standard for the nation to follow."
Just Announced: Newport Mill MS has been selected as a 2018 U.S. Department of Education Green Ribbon School! Congratulations! https://t.co/weVj10fhvE pic.twitter.com/UsbwpaxK9f

— MCPS (@MCPS) May 16, 2018
Congrats to @CCPSk12 Manchester Valley HS and @MCPS Newport Mill MS for your achievements on becoming U.S. Department of Education Green Ribbon Schools! Both schools are #MDGreenSchools and we could not be more proud! Thanks for announcing this today @EDGreenRibbon!

— MAEOE (@MAEOE_MD) May 16, 2018