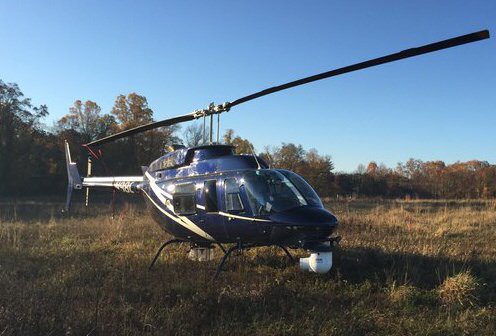 News Helicopter Makes Emergency Landing While Covering Potomac House Fire (PHOTOS)
A news helicopter made an emergency "soft" landing, while covering a house fire in Potomac this morning. The helicopter landed in a nearby field at the 10900 block on Brent Road.
Brad Freitas, an aerial journalist on board the helicopter, said the reason for the emergency landing was reported smoke coming from the engine. Freitas says there were no injuries and that the helicopter will be inspected by a certified mechanic.
Fire and Rescue Services Spokesperson Pete Piringer tweeted out photos of the landing.
News Helicopter covering Potomac house fire makes 'soft' emergency landing in nearby field in 10900blk Brent Rd pic.twitter.com/ZhqzDgrrOq

— Pete Piringer (@mcfrsPIO) November 3, 2015
News Helicopter reporter @NewsChopperBrad Freitas is ok & talks to reporters about his emergency landing experience pic.twitter.com/U9QNt5Qyzx

— Pete Piringer (@mcfrsPIO) November 3, 2015
Update – news helicopter makes emergency landing in Potomac, both occupants OK, no injury no crash pic.twitter.com/ar0QUH3aXj

— Pete Piringer (@mcfrsPIO) November 3, 2015
News helicopters made an emergency landing in the Vicinity of horseshoe Lane

— Pete Piringer (@mcfrsPIO) November 3, 2015