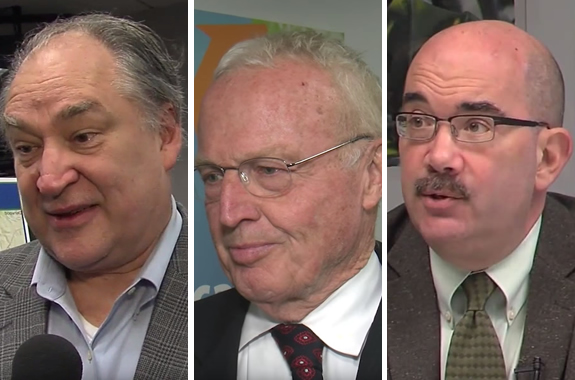 Nine Candidates So Far Have Signed Up for Public Election Financing
Nine candidates have so far filed paperwork to take advantage of a Montgomery County fund that will contribute to next year's County Council and county executive races.
The fund now stands at $10 million, thanks to a $2 million appropriation in County Executive Ike Leggett's fiscal 2018 budget proposal.
Ukiah Busch of Silver Spring and Richard Gottfried of Rockville, both Democrats, have filed candidacies for at-large seats for the County Council.
"I've had the intention to run for office for years but I was unwilling until I could find a way to do it without taking special interest money," Busch said.
Public financing, he said, made that possible.
Gottfried said he chose public financing because he was a regular citizen.
"I'm the people's candidate, and the people's voice needs to be heard in the county," he said.
Democratic county councilmembers George Leventhal and Marc Elrich, and Republican attorney Robin Ficker have filed to use the public financing fund in county executive races. Council Councilmember Hans Riemer, a Democrat, also has filed to use the fund, although online election records do not state the office is plans to seek next year.
The Committee to Recommend Funding for the Public Election Fund had increased its $10 million recommendation to $11 million. Leggett stuck by the $10 million figure.
In the weeks before releasing his budget this month, Leggett expressed skepticism he'd make the last contribution.
"That's tough to do because what that meant, we had to squeeze out a long list of other demands," Leggett said. "Either way you look at this, this is a hard, hard number to put into the budget."
Under the county's public financing system, contributions are capped.
County residents can contribute no more than $150 per candidate over a four-year election cycle. That also means candidates can receive no contribution larger than $150, although they can loan to their own campaigns, up to $6,000.
Candidates also cannot receive contributions from political action committees, corporations, labor unions or state central committees. Candidates cannot accept loans from themselves or their spouses.
A candidate cannot be a member of a slate.
Candidates would have to meet minimum numbers of contributions. County executive candidates would have to receive 500 qualifying contributions totaling $40,000.
At-large council members would need 250 qualifying contributions totaling $20,000. District council members would need 125 qualifying contributions totaling $10,000.
County executive candidates could receive as much as $750,000, at-large council candidates could receive as much as $250,000, and district council candidates could receive as much as $125,000.
To keep up to date on the candidates seeking public financing, click here, then choose "Public Financing Committee" under "Committee Type."