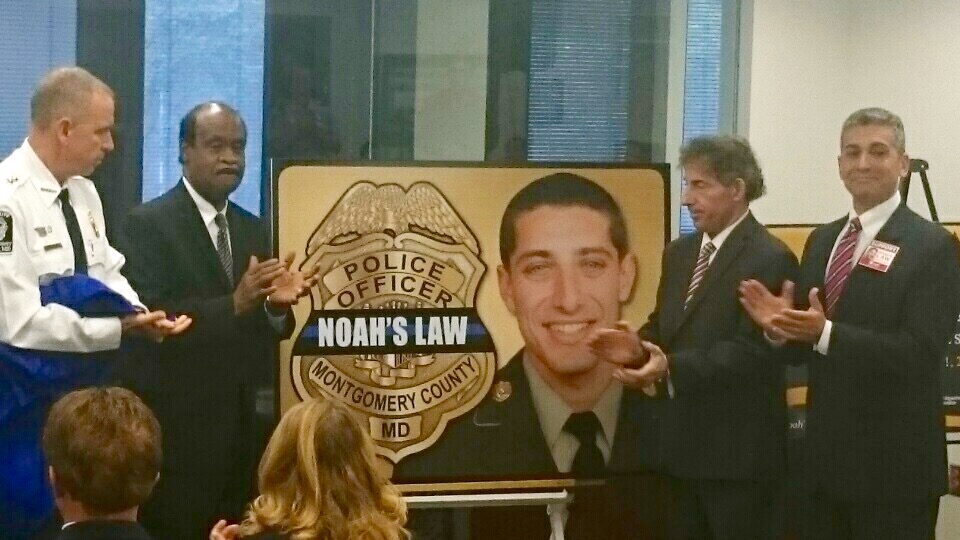 Noah's Law Stamp Unveiled Day Before Legislation Goes into Effect (VIDEOS & PHOTOS)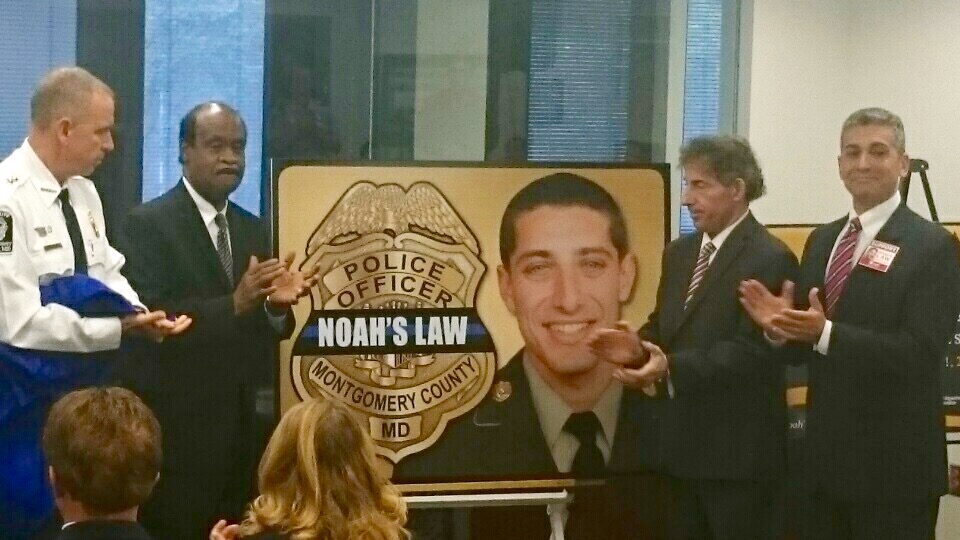 Starting Oct. 1st, Noah's Law will go into effect and motorist convicted of drunk driving will be required to have an ignition interlock device installed in their vehicle. That ignition interlock device will feature a stamp with an image of fallen Montgomery County Police Officer Noah Leotta, who tragically killed last December while working as a member of the police department's Holiday Alcohol Task Force.
Leotta had stopped a suspected drunk driver in Rockville when he was struck by another vehicle. He later died from his injuries.
Leotta's parents along with local and state officials unveiled "Noah's Law" stamp at a news conference today at the Montgomery County Circuit Court in Rockville.
Officer Noah Leotta's parents unveiling stamp to be placed on ignition interlock devices in MD as part of #NoahsLaw effective midnight. pic.twitter.com/DzbKM6ZeYr

— Montgomery Co Police (@mcpnews) September 30, 2016
Watch the news conference in its entirety in the MyMCMedia Extra video, below. 
Noah's Law mandates the use of an ignition interlock device for those motorist convicted of drunk driving and will significantly increase administrative driver's license suspension periods.
Under Noah's Law, drivers are required to participate in Maryland's Ignition Interlock Program for the following convictions:
• Driving under the influence (DUI);
• Driving while impaired (DWI) while transporting a minor under the age of 16;
• Driving while intoxicated with an initial breathalyzer test refusal; and
• Homicide or life-threatening injury by motor vehicle while DUI or DWI.
LIVE on #Periscope: #NoahsLaw sticker for IIDs unveiled on eve of law taking effect in Maryland. Find out more at t… https://t.co/qgOIMv20pB

— MADD (@MADDOnline) September 30, 2016
Noah's Law goes into effect October 1. Convictions for drunk driving will result in mandatory ignition interlock devices. pic.twitter.com/1iDZB3Mkwr

— Sidney Katz (@MC_Council_Katz) September 30, 2016
County Exec. Leggett talks about Noah's Law day before it goes into effect at news conference. pic.twitter.com/cChP0VtjfJ

— MyMCMedia (@mymcmedia) September 30, 2016