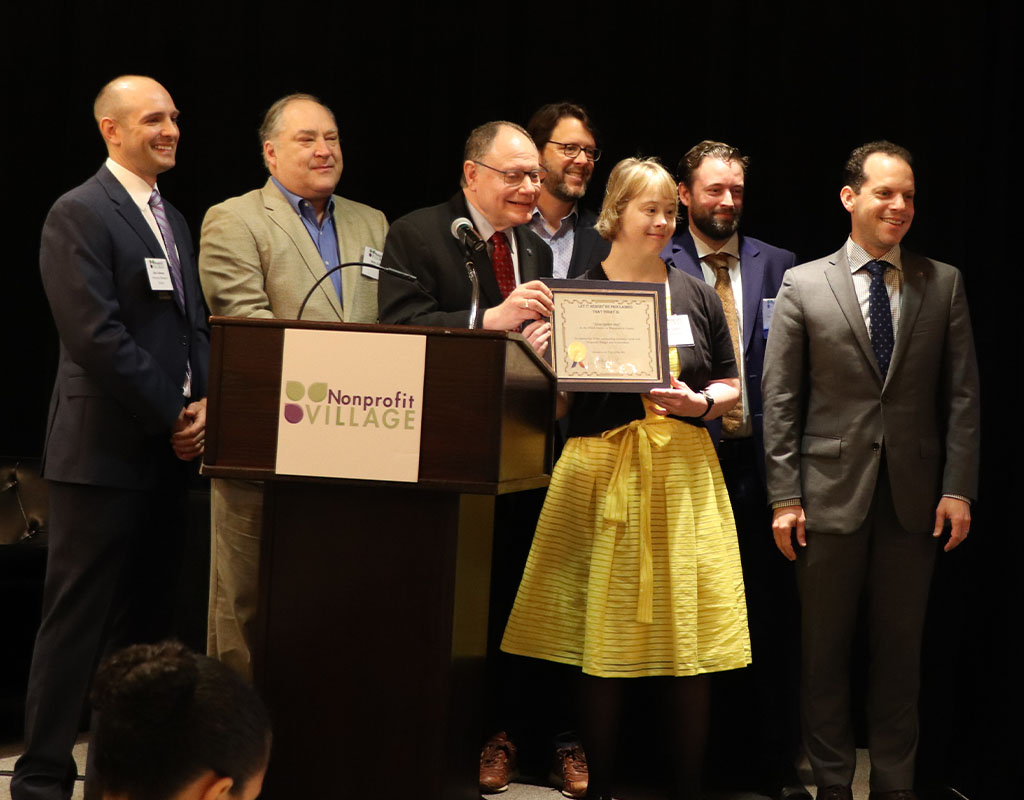 Nonprofit Organizations, Leaders Honored for Working Toward Equity
Two nonprofit organizations and a nonprofit leader were honored at the 2019 Making a Difference Awards at Bethesda Marriott Pooks Hill.
The awards are organized by the Nonprofit Village, located in Derwood.
Community Members and Organizations Honored at Nonprofit Village's Making a Difference Awards
At the awards, Alisa Ogden received special recognition from Council Vice President Sidney Katz for her volunteer work with Nonprofit Village.
It was my pleasure to attend the @npvmoco Making a Difference Awards Breakfast. I recognized Alisa Ogden, a volunteer, for her outstanding service and dedication to @npvmoco. Non-profits Passion for Learning and @InterfaithWorks were recognized as well. @MoCoCouncilMD pic.twitter.com/vvKLoXG2V1

— Sidney Katz (@MC_Council_Katz) May 3, 2019
Katz even proclaimed Friday as Alisa Ogden Day giving Ogden a special citation on behalf of the Montgomery County Council.
Passion for Learning won the Small Nonprofit Making a Difference Award for its dedication to helping low income students receive opportunity learn about technology and digital literacy.
Interfaith Works won the Large Nonprofit Making a Difference Award for their efforts to help the homeless.
Finally, Tamara Lucas Copeland won the Chairman's Award for her work in addressing issues of race in the workplace and working to create more equity in the community.
Copeland is the recently retired president of the Washington Regional Association of Grantmakers.
Here's What Happened at the Making a Difference Awards
Here's a social media recap of the awards.
Sen. @CherylKagan is speaking about @npvmoco relocating to a new office space in building. She's presenting The Village with a citation to honor their work in the community. pic.twitter.com/7z38iwFwWl

— Deirdre Byrne (@DeirdreByrneMCM) May 3, 2019
Passion 4 Learning wins award at @npvmoco's Making a Difference Award. The organziarion helps provide resources to low income students. pic.twitter.com/glwqQVRCj3

— Deirdre Byrne (@DeirdreByrneMCM) May 3, 2019
.@InterfaithWorks wins the @npvmoco's Large Nonprofit Making a Difference Award for offering community members opportunities and resources to lift them out of poverty.

— Deirdre Byrne (@DeirdreByrneMCM) May 3, 2019
Jeffrey Slavin is talking to Tamara Lucas Copeland, the president of Washington Regional Association of Grantmakers, who is receiving @npvmoco's Chairman Award. #NPVAwards pic.twitter.com/MQBcG8gxuO

— Deirdre Byrne (@DeirdreByrneMCM) May 3, 2019
Trayvon Martin's death gave Copeland a realization of "the invisibility of racism." She realized when Martin died that what happened to him could have happened to her own son.

— Deirdre Byrne (@DeirdreByrneMCM) May 3, 2019
Copeland hopes that nonprofit directors can be more cognizant of implicit bias and structural racism. She believes that people need to have uncomfortable conversations in their organizations. She says this website can be a resource:https://t.co/qxnGNT2v0i

— Deirdre Byrne (@DeirdreByrneMCM) May 3, 2019
Copeland says that people need to think of working toward racial equity as a "marathon relay." It doesn't stop and it takes work. Copeland says that the business community is one community reluctant to have a conversation on racial equity so she hopes to open those doors.

— Deirdre Byrne (@DeirdreByrneMCM) May 3, 2019
By the way County Executive @Marc_Elrich is at the @npvmoco Making a Difference Awards Breakfast. He says that we can't ask people to wait before talking up racism.

"Time to deal with the problem," said Elrich. pic.twitter.com/F5geCT9jvd

— Deirdre Byrne (@DeirdreByrneMCM) May 3, 2019