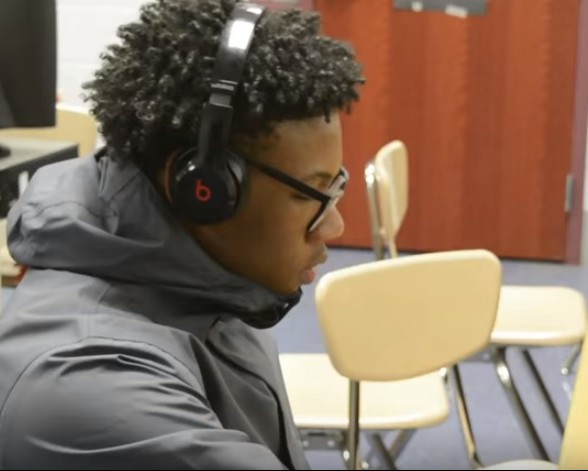 Northwest High School Students Win National Video Contest on Hearing Loss Awareness (PHOTOS & VIDEO)
Three Northwest High School students have won a national video contest on hearing loss awareness. Over 5,000 high school's across the country participated in the competition which was organized by the Starkey Foundation, a nonprfit dedicated to helping the hearing impaired.
Northwest High School students Tye Gray, Chris Hall and Miranda Pierce produced and published a video public service announcement to educate teens about hearing loss.  The Listen Carefully campaign attempts to raise awareness about noise-induced hearing loss and to prevent a hearing loss epidemic, according to the campaign's website.
Miranda Pierce, one of the team members who produced the video, shared her thoughts on hearing loss with the Listen Carefully campaign.
"I decided to enter the contest because I believe it's important to spread awareness on hearing loss as it is a growing problem in my generation," Pierce said in a blog post. "Whether that sound may be the melody in someone's voice, the rhythmic pattern of instruments, or the simple strumming of a chord, music would be the sound most devastating to lose."
The short video, "Give Your Ears a Rest -4SW" features students trying to get the attention of a distracted student who's listening to loud music. The video was produced in one day.
Tye Gray explained the inspiration behind the video.
"We see this kind of thing in class or walking down the hall, so it made it easy," Gray said in a blog post.
Northwest High School students will receive a free private concert with County music duo Maddie and Tae on May 14th for winning the video contest.
Check out the winning video below and listen carefully.
Meet the #Germantown teens who won the #listencarefully video contest! https://t.co/sRkldzqigc

— Listen Carefully (@listencarefully) March 31, 2016