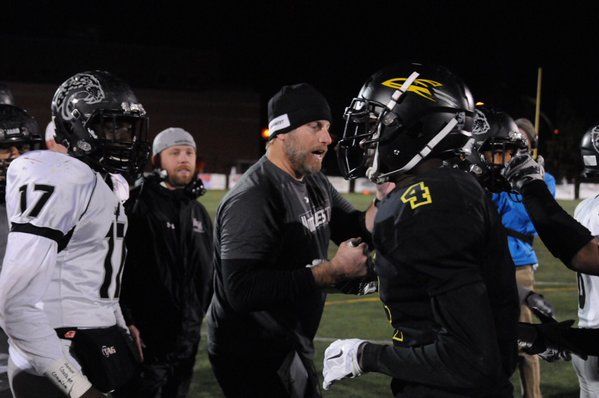 Northwest Jaguars 33-21 Over Richard Montgomery Rockets (PHOTOS)
UPDATED On a cold Friday night under the lights in Rockville, it was the Northwest Jaguars over the Richard Montgomery Rockets.
At halftime, it was all Jags as the two teams went into the locker rooms with Northwest leading 20-0.
But the Rockets came back scoring three times in the second half.
The final score: 33-21. The Jags will take on the Quince Orchard Cougars in next week's playoff game.
Final. NW 33 RM 21. Coach Mike congratulates RM players. @mymcmedia @allmetsports @NWHSfootball @NWJagSports pic.twitter.com/duiNxqOCzv

— Phil Fabrizio (@Photoloaf) November 14, 2015
Two quick scores by RM makes it 33-21 NW with 3:24 left in the half.

— Phil Fabrizio (@Photoloaf) November 14, 2015
Farri scores for NW and conversion makes it 33-7 in the 3rd. @mymcmedia @allmetsports @NWHSfootball @gdpoze pic.twitter.com/nGPI0ZFYAt

— Phil Fabrizio (@Photoloaf) November 14, 2015
Pierce fakes and takes it 6 yds for his 2nd running TD. 26-7 NW @mymcmedia @allmetsports @gdpoze pic.twitter.com/51RFZrWXyu
— Phil Fabrizio (@Photoloaf) November 14, 2015
Pierce on a 6 YD TD scamper. NW 20-0 in the 1st. @mymcmedia @allmetsports @NWHSfootball @gdpoze pic.twitter.com/3g1MobWMpZ — Phil Fabrizio (@Photoloaf) November 14, 2015
Pierce to Gandy from the 7. 13-0 NW. @mymcmedia @NWHSfootball @NWJagSports pic.twitter.com/0FH0L8Jf8Y
— Phil Fabrizio (@Photoloaf) November 14, 2015
FUMBLE. RM recovers. Still in the 1st. @mymcmedia @RMRockets_AD @NWHSfootball pic.twitter.com/fufSUCLqqc — Phil Fabrizio (@Photoloaf) November 14, 2015
74 yds Pierce to Anderson. 7-0 NW. On first play of the game. @mymcmedia @NWHSfootball @allmetsports pic.twitter.com/muSzJQy2GH
— Phil Fabrizio (@Photoloaf) November 14, 2015
It's QO & NW rematch for Great Seneca and 4A West Region Crown @mymcmedia @QO_FOOTBALL @NWHSfootball @allmetsports pic.twitter.com/JTZvd9MFuQ

— Phil Fabrizio (@Photoloaf) November 14, 2015
PHOTOS | Phil Fabrizio