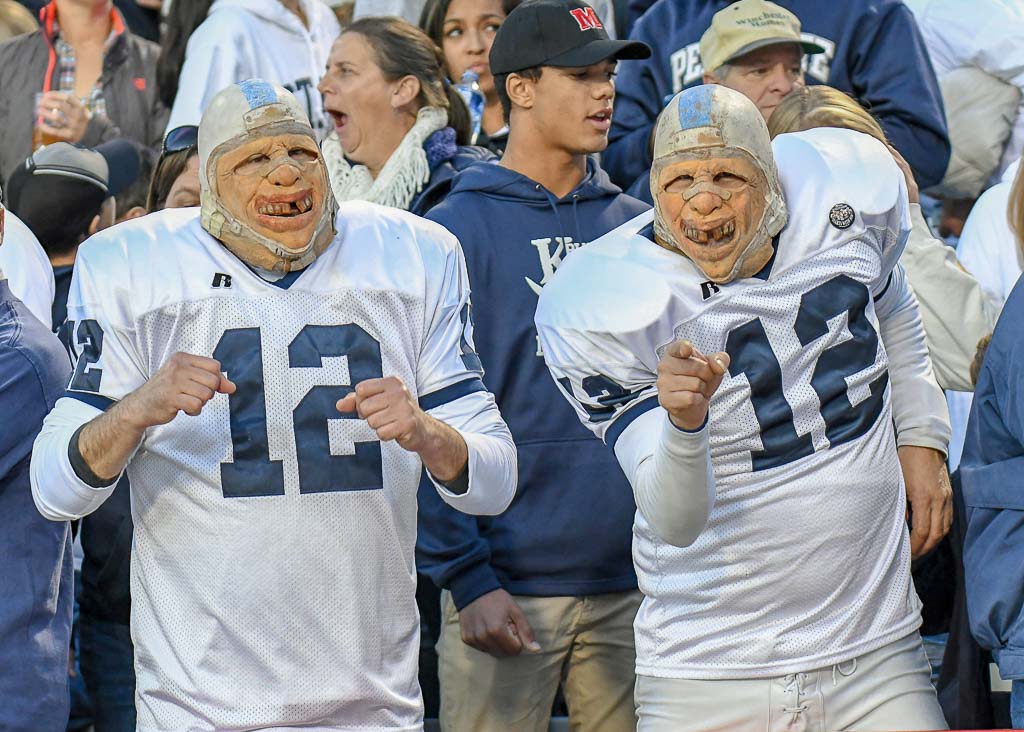 Not So Fast ESPN's College GameDay
ESPN recently celebrated their 25th anniversary of the rebranded 1993 version of College GameDay, built by Home Depot, (CGD) which provides a broadcast of news and analysis of national in-season college football games on Saturdays from 9 a.m. to noon.
Last Saturday morning (11/10) as I twirled my yellow #2 Dixon Ticonderoga pencil watching the hosts (Rece Davis, Lee Corso, Kirk Herbstreit, Desmond Howard, David Pollack, Maria Taylor and producer Chris Fallica) recollect on CGD's storied past, I wondered why my beloved Maryland Terrapins have never hosted nor appeared on a College GameDay. Hosting is the real deal here for the home team. So, I did an analysis of the past 25 years of hosting and appearance on College GameDay.
The full analysis can be read here at PhotoLoaf .  I condensed the takeaways here for mymcmedia blog readers and included below my key analysis charts in a slide show.
The takeaways are:
That ESPN has a B1G, BAD, b-EAST preference, or dare I say, a bias?
That Maryland Football has been up and down over the last 25 years;
Maryland is not alone in this, their 25 years of neglect, they have company in the ACC and B1G, as well;
That the branded sponsor of CGD, Home Depot, best pay attention to the B1G alumni in the Mid-Atlantic region known as the DMV (District, Maryland and Virginia);
The Terp fandom faithful desperately needs to cheer with a cheerleader – and we might just have one on the ESPN CGD Stage; and
It will take the timely strategic working collaboration of many, including those identified here to improve perceptions, not just based or accomplished through a CGD event.
Basically, it may seem as an injustice that Maryland has not hosted a College GameDay and there have been 718 opportunities over the past 25 years, or 606 to be exact when you eliminate the 56 traditional games like ARMY-NAVY, Bowl and Conference Championship games.
Maryland may be unique in having never been featured on CGD since its past football tradition spans over two POWER 5 conferences.  They played (and will continue to do so in the B1G) preferred ESPN CGD football programs.  In their present location in the B1G East division which I labeled as B1G, BAD, b-EAST teams, they play even more preferred teams.
ESPN's CGD has during the 1993 to present day "era" never covered an appearance or traveled to host ACC members located at Maryland, Duke, Virginia, Wake Forest and now B1G members Minnesota and Rutgers. (Note: Iowa State in the Big 12 is also a member of this elite overlooked group). Maryland and Rutgers, in 2014, switched conference alignment joining the B1G and ended up in its Eastern division (b-EAST).   I am only making this analysis pitch for the Terps.
Maryland during the CGD era has a won-lost record of 145 to 165, a winning percentage of .467. The Terps most consistent winning seasons were under Ralph Friedgen from 2001 to 2010, at 75-50. Lee Corso, one of the featured analysts on CGD was a former UMD coaching assistant from 1959 to 1965. He had hand in crafting future Maryland greatness as he recruited Friedgen in high school to come play for Maryland in the early 1960's. Friedgen, 31 years later in 2001, became head football coach at Maryland.
The football past was not always attractive. Success on the field has occurred in College Park and was consequently overlooked. Plus, not too sexy doesn't help the pitch for catching cable TV eyeballs on early Saturday mornings.  Gosh, they (on 11/17/18) took #10 Ohio State into overtime and lost on a gutsy 2 point conversion play losing 52-51.  A weak OSU team or a surprisingly resilient Maryland team, your choice. I choose the later.
Controversies, yeah now that raises the eyebrows. However, I did not muddy the linked analysis with the 2018 Jordan McNair tragedy since it does not reflect on the Terps past on field football performance though it will certainly be impactful going forward. Additionally, keep in perspective that student-athlete / athletic controversies, even premature firings, existed during this CGD era at other B1G schools in such places as Michigan State (Larry Nassar), Penn State (Jerry Sandusky) and Ohio State (Zach Smith).  Enough said.
Is it just the simple luck of a spin? That rationale does not hold up over a 25-year time frame across two POWER 5 conferences given a roulette wheel's spinning chance of landing on one of those 606 opportunities against a preferred team to appear on or as a CGD host. Therefore, ESPN's roulette wheel has a preference. That's OK it is their dollar, or is it?
Consider the sponsor, Home Depot, do they have any say on the choices made, maybe they should?
So, what could Maryland bring to the table for ESPN?
How about the number of branded sponsor Home Depot locations in the DMV area that are within 50 miles of the Capital One Field at Maryland Stadium?  Home Depot has 43 retail locations circling the DMV and Baltimore.  How about the rest of B1G Conference what do they look like within a 50-mile radius? Columbus, Bloomington, East Lansing, Ann Arbor, State College, Evanston, IL, not as many.  Rutgers in New Brunswick, almost as many.
Eventually in National Landing, VA, Amazon's HQ2 will be located only 17 miles away from Capital One Stadium. It may be just a bit easier for DMV B1G alumnus and future UMD undergrads to consider ordering hammers, nails, toilet plungers, ceiling lights and potted plants on line with possible same day local delivery fulfilled from Amazon's new 1.3M SQFT Sparrows Point, MD distribution center, 1 of 4 centers in Maryland.
Now Home Depot, more than ever, should see College Park, aka Maryland's future role, in ESPN's CGD in a different light. A light that reflects on their investment in nearby retail locations.
What's needed now, in my humble opinion, is a sun streak of leadership, a cheerleader, someone with a little cagey laugh at one's self, all to reflect upon what makes Terps proud, excited once again and most of all, respected.
Reflectively, it's circles back to Coach Lee Corso and his #2 Dixon Ticonderoga pencils, who strangely enough sits in a unique centered position on the College Game Day, stage, the one built by Home Depot. He has history in College Park.
Coach might think of a Maryland CGD game as a homecoming of sorts, a vacation to the Free State, the Land of Pleasant Living, a trip back for the best crab cakes. It might be just that opportunity to show the students and alumni his Maryland Pride or what's left of it before it is too late. He made a difference then and affected in a positive manner the lives of many student-athletes that came later.
Can this 25-year metric change?  Will it change?
Consider that on September 28, 2019 it's Penn State at Maryland, that might just be a good point for a fresh 25-year start.
It's a B1G home game for the Terps and a historic rivalry game that spans 41 contests going all the way back to 1917. There is a lot of drama between these two border states separated by the Mason-Dixon Line. Plus, this game matchup would fit in with that BIG, BAD and b-EAST team preferences.
The reality is that it takes a strategic collaboration of many individuals, players, academics, sponsors, and yes, broadcast executives to improve perceptions regarding the football program.  The team is doing its' part – just look at how they performed against Ohio State on November, 17. They played the 2018 season against much adversity.  One fan based event will not change perceptions as one step in a race does not finish a marathon, it takes teamwork, perseverance and imagination, a dream.
So in a dream I hear, "Not so fast, young man" Coach says, "you best order enough crab cakes because I'm bringing Rece, Kirk and the rest of the crew." to College Park.
I can't pitch fandom any better than this.
Phil Fabrizio   –  On Mymcmedia.org.
Sugarloaf Associates LLC
PhotoLoaf®
References: facts, statistics, time frames all accumulated by internet searches of websites that include WikiPedia, Google, NCAA Division 1, Home Depot and numerous ACC and B1G conference sites.