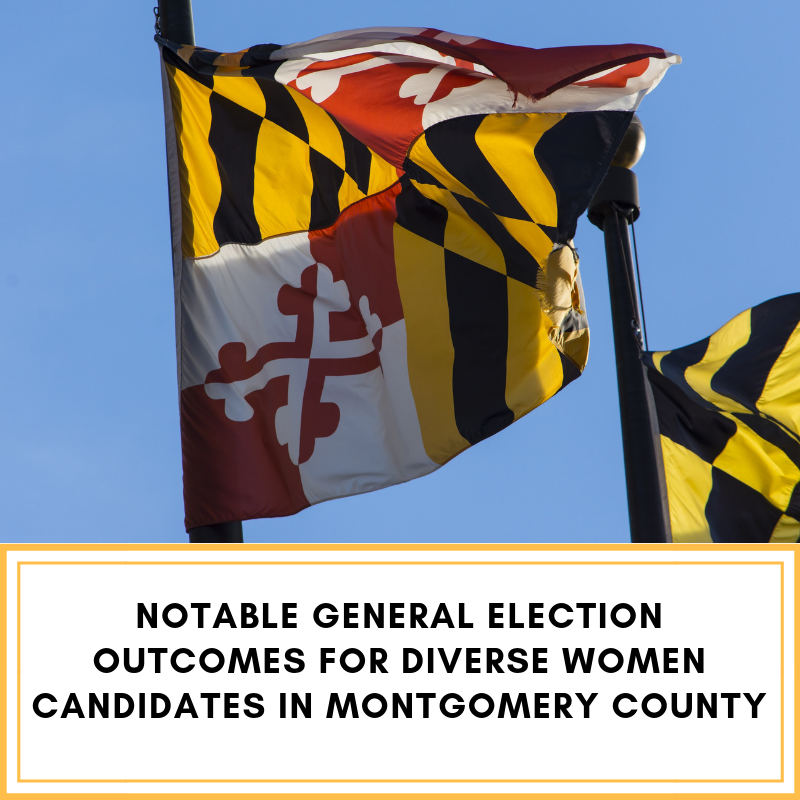 Notable General Election Outcomes For Diverse Women Candidates in Montgomery County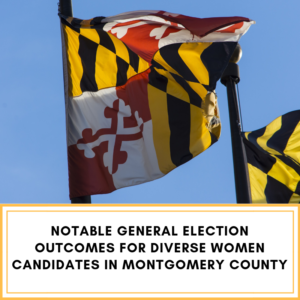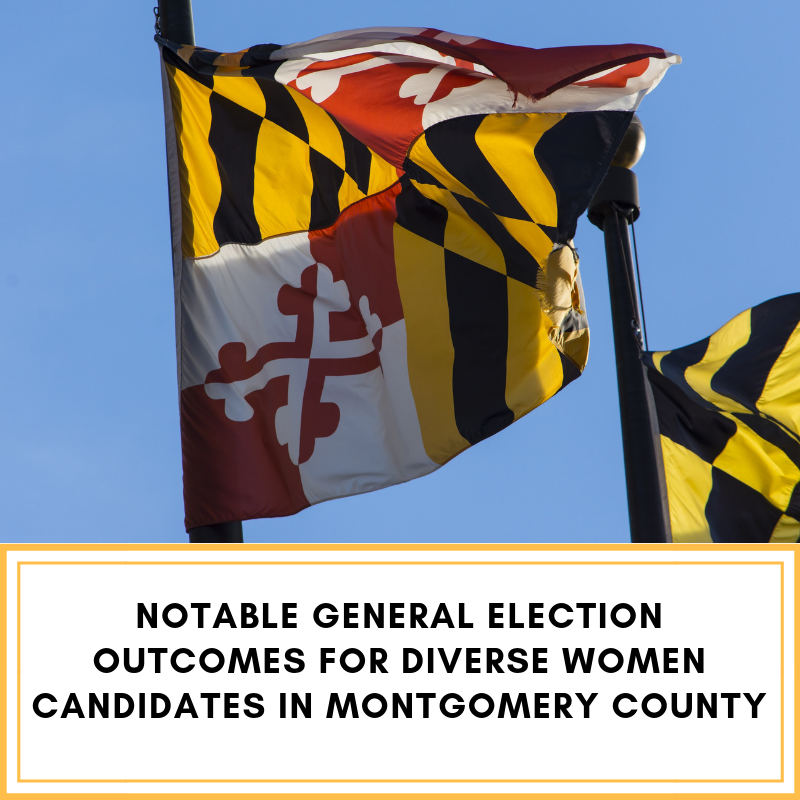 Maryland saw a record number of women elected to the General Assembly for the General Elections. As November comes to a close, Politics Within Politics (PWP) would like to recognize a few notable outcomes from the November 6 election results for women candidates in Montgomery County.
Montgomery County Historically Elected African American Women to House of Delegates
Three African American women were elected to the Maryland House of Delegates, representing Montgomery County: Charlotte Crutchfield of District 19 (who PWP profiled in 2015), Pamela Queen of District 14, and Jheanelle Wilkins of District 20. Up until now, voters in Montgomery County had never elected any African American woman to the House of Delegates. Prior to November 2018, both Queen and Wilkins were nominated by the Montgomery County Democratic Central Committee and appointed by the Governor to the House of Delegates to fill vacancies.
District 15 Elected First Chinese American Immigrant to the House of Delegates
Another notable victory is the election of Lily Qi of District 15, who will be serving in the House of Delegates. She is the first Chinese American immigrant elected to represent District 15. She will be filling the seat for outgoing Delegate Aruna Miller, who previously ran for the U.S. House of Representatives in Congressional District 6 during the Democratic Primary. PWP looks forward to seeing Qi collaborate with the Maryland Legislative Asian-American & Pacific-Islander Caucus on future legislative efforts. It's important to note that Qi was a first-time candidate.
Montgomery County Elected More Women of Color to the Board of Education
This year, several seats were open for the Montgomery County Board of Education. Voters elected several women of color, including Karla Silvestre (At-Large), Brenda Wolff (District 5), and incumbent Judith Docca (District 1). Incumbent Patricia O'Neill (District 3) was also re-elected. These women will serve alongside Shebra Evans (District 4), Jeanette Dixon (At-Large) and Rebecca Smondrowski (District 2) who are currently serving their four-year terms.
Fun fact: starting on December 3, 2018, Montgomery County's Board of Education will be served by all women.
District 39 Elected Granddaughter of Filipino Immigrants Among Field of Democratic Male Candidates
Lesley Lopez was a first-time candidate and newly elected to the House of Delegates representing District 39. As stated on her website, Lopez is the granddaughter to immigrants from the Philippines. PWP was impressed that she was among a handful of Montgomery County candidates that targeted Spanish speaking voters in District 39 on her website. Lopez was the only female Democratic candidate in the field of seven candidates vying for one of the three District 39 delegate seats in the Democratic Primary. After placing first in the Democratic Primary on June 26, Lopez placed second in the General Election on November 6.
**Correction: Lopez ran against another woman candidate in the General Election, Republican Verelyn Gibbs Watson.
To see a full list of candidates and the election results, please visit the Maryland Board of Elections here.  
Which election results surprised you the most in 2018? Let PWP know on Twitter @PoliticsWithin!