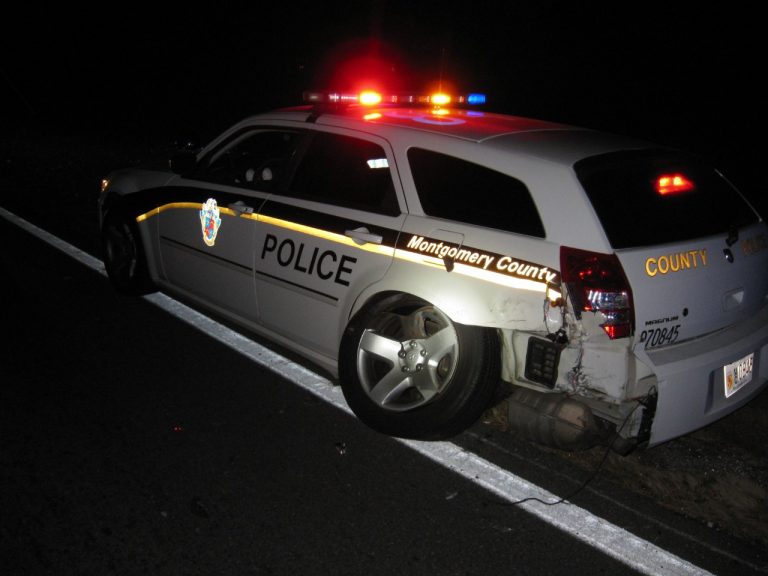 Police Say Officer's Cruiser Struck by Suspected Drunk Driver (VIDEO & PHOTOS)
UPDATED Montgomery County Police Officer Edward Paden said he's thankful to be alive after an alleged drunk driver struck his cruiser.
In this MyMCMedia Extra video, Officer Paden is urging residents to use caution and drink responsibly this holiday season:
ORIGINAL POST
A Montgomery County police officer was struck by a vehicle Saturday evening on Spencerville Road in the area of Burtonsville Drive.
Two officers were providing traffic control on Nov. 19 at a mosque when an elderly woman approached the officers about her car not starting, according to a police department news release.
One officer walked the woman back to her car while the other officer parked his marked patrol cruiser behind the disabled vehicle and activated the patrol car's emergency lights. The woman sat in the passenger seat of her car while the officers requested a tow truck.
Police said a 2006 Kia Sedona traveling east on Spencerville Road rear-ended the police cruiser while parked behind the disabled vehicle. The force of the collision caused the police cruiser to collide with the disabled vehicle with the woman sitting in the passenger seat.
Fire and Rescue personnel responded to the scene. No one was seriously injured, according to police.
The driver was identified by police as 56-year-old Pedro Vera of Laurel. Police said he was arrested and charged by MCP officers for driving under the influence of alcohol. According to police, Vera consented to a breath test which indicated a Blood Alcohol Content (BAC) of (.11).  The legal BAC limit is (.08) in Maryland.
MCP Cruiser Struck by Drunk Driver While Officer Assisting Motorist – Drive responsibly and choose a sober driver: https://t.co/sAmITJHalo pic.twitter.com/PkqY0yDz7x

— Montgomery Co Police (@mcpnews) November 23, 2016