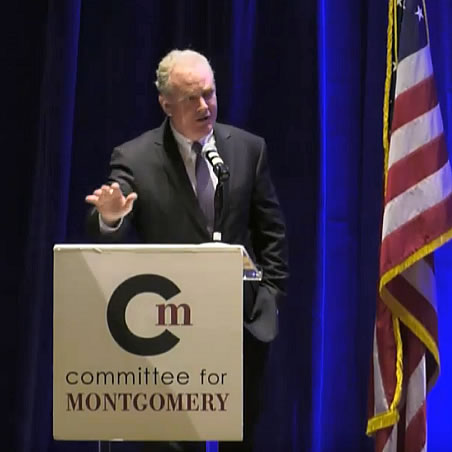 Officials Address Committee for Montgomery at Legislative Breakfast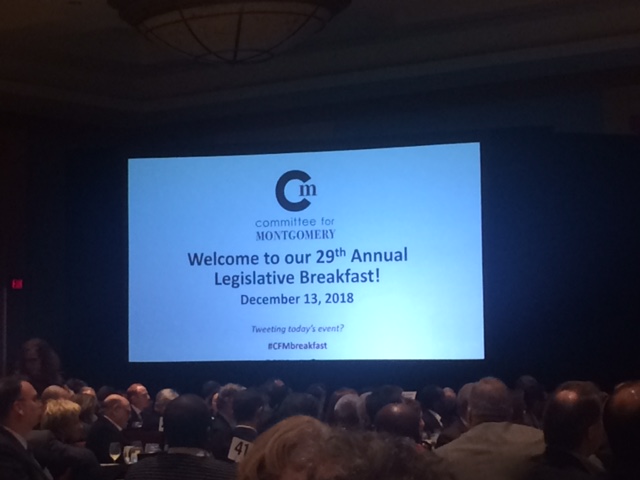 Maryland and Montgomery County officials spoke at the Committee for Montgomery's 2018 Annual Legislative Breakfast.
The Committee for Montgomery consists of county leaders who promote policies to increase opportunities for county residents. More specifically, they support education policies and promote economic and infrastructure development that would benefit the county.
At the breakfast, Senator Chris Van Hollen, County Executive Marc Elrich, County Council President Nancy Navarro, and other leaders addressed the committee, remarking on their 2019 legislative goals.
One of the top priorities mentioned at the breakfast was education.
"I am asking you to join with me, the County Council, the County Executive and key stakeholders in the design and implementation of a full-scale, high-quality, accessible and affordable early care education initiative," said Navarro.
Van Hollen addressed President Donald Trump's comments from earlier this week, promising to shut down the government if he didn't receive funding for a wall on the southern border.
"You probably witnessed the new reality TV show at the White House. We are working very hard to prevent a government shutdown," said Van Hollen. "The congress did pass legislation on time to keep at least 75 percent of the government open."
Van Hollen also commented on transportation issues, noting that funding for the purple line at the federal level "remains in place."
We're so lucky to have @ChrisVanHollen fighting a federal shutdown, pushing for funding for @wmata, Chesapeake Bay cleanup, opioid treatment and more. @CFMontgomery #CFMbreakfast pic.twitter.com/V7IdApPPDX

— Tom Hucker (@tomhucker) December 13, 2018
In his remarks, Elrich also addressed transportation issues in Montgomery County. He said Governor Larry Hogan—who recently published an Op-Ed in the Washington Post about states leading the way to address climate change—needed "to have some vision."
"You can't talk about global warming and you can't talk about our responsibility on climate change, and then say we have to make our roads bigger, bigger bigger," said Elrich. "If the governor really wanted to help Montgomery County, he'd start at the American Legion [Memorial] Bridge."
Overall, the breakfast focused legislative goals regarding education, transportation, and supporting businesses.
The event also paid homage to the late-Keith Haller, who founded the polling firm Potomac Inc. in Bethesda. He died of cancer earlier this week, at the age of 70.
Here at #CFMBreakfast2018 w/ 800 county activists and leaders listening to @joshkurtznews, @Bruce_DePuyt, @bpsears & @DelegateKaiser thinking about a real gentleman who truly embodied all that this annual get-together represents, a friend & advisor to so many of us – Keith Haller pic.twitter.com/3WsRrSFJ2u

— Councilmember Andrew Friedson (@Andrew_Friedson) December 13, 2018
Watch All Remarks From the Breakfast
Live Tweets From the Legislative Breakfast
.@Marc_Elrich emphasizes his commitment to working closely with our legislative delegation, especially on #Kirwan public education funding proposals. #CFMBreakfast2018 pic.twitter.com/8r7PP7UDPp

— Cheryl C. Kagan (@CherylKagan) December 13, 2018
Happening now: @Bruce_DePuyt, @bpsears, @joshkurtznews and @DelegateKaiser talk about the recent election results at #cfmbreakfast2018. @CFMontgomery pic.twitter.com/gE3ukvLOkI

— ChesapeakeStrategies (@ChesapeakeStrat) December 13, 2018
Senator @ChrisVanHollen addressing the #CFMBreakfast2018. @CFMontgomery pic.twitter.com/TSTVowfiBn

— ChesapeakeStrategies (@ChesapeakeStrat) December 13, 2018
Key Legislative theme in #MoCo in next year per leadership, @Marc_Elrich and @nancy_navarro:early #education #cfmbreakfast2018 pic.twitter.com/6Cbx0Tfyel

— Laura Van Eperen (@LauraVanEperen) December 13, 2018
New County Council President @nancy_navarro highlights job creation and "making the County very business-friendly" among top priorities! @CFMontgomery #cfmbreakfast2018 #workforce pic.twitter.com/gS80Y1TjJo

— WSM (@worksourcemd) December 13, 2018
"There is no place for hate in our community," says Council President @nancy_navarro at #cfmbreakfast2018. @CFMontgomery @MoCoCouncilMD @MontgomeryCoMD #MoCoLife pic.twitter.com/lRmXmHQPmD

— ChesapeakeStrategies (@ChesapeakeStrat) December 13, 2018
Another great crowd at the annual @CFMontgomery breakfast, amazing cross-section of leaders in business, government, labor, nonprofits, education, all coming together to support common goals. @GburgMD Mayor & City Council are all here. #CFMbreakfast2018 #CFMbreakfast

— (((Ryan Spiegel))) (@RySpiegel) December 13, 2018
Council President @nancy_navarro shares the @MoCoCouncilMD's priorities – greater access to early childhood education, a more business friendly environment and attention to social equity – with the hundreds attending the @CFMontgomery annual breakfast. #CFMbreakfast2018 pic.twitter.com/sndKNv5e1z

— Evan Glass (@EvanMGlass) December 13, 2018