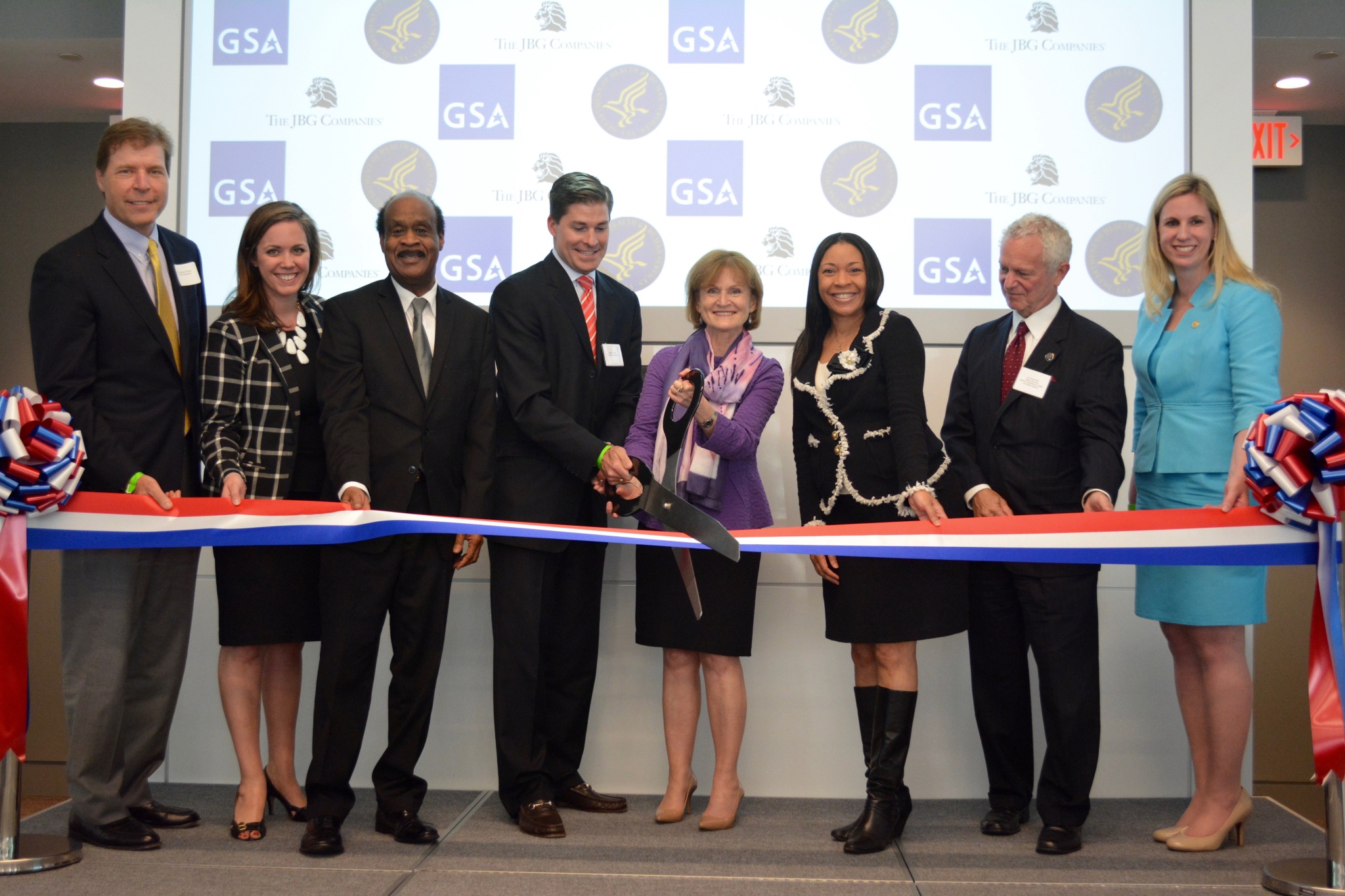 Officials Celebrate Newly Redeveloped Parklawn Building with Ribbon Cutting (VIDEO & PHOTOS)
The newly renovated Parklawn Building, located in Twinbrook will now house four U.S. Department of Health and Human Services (HHS) agencies. Officials from the JBG Comapanies, General Services Administration, HHS, and Montgomery County celebrated the official opening of the building on Tuesday with a ribbon cutting ceremony.
In this MyMCMedia Extra video, County Executive Ike Leggett talks about the economic impact of the redeveloped building.
"We truly have a reason to celebrate today," Montgomery County Executive Ike Leggett said. "JBG and the development team created a modern cost-effective plan for the Parklawn Building that allowed Montgomery County to retain thousands of federal workers-with direct access to Metro. The new 5600 Fishers Lane stands adjacent to the new National Institute for Allergy and Infectious Diseases building, also developed by JBG. It's a concentration of about 6,000 federal workers in Twinbrook that significantly benefits the county and our economic goals, and I for one, couldn't be more pleased," Leggett said.
It took four years to develop and transform the 1970s building and cost $300 million, according to a news release. The 18-story building is one million square feet and was created to provide open and flexible work space and is environmentally sustainable. The building features a cafeteria, dining areas, and a 14-story glass atrium.
"The building transformation has been a hugely collaboration process, and the result is a world class facility that creates a positive environment that supports GSA and HHS in fulfilling their mandates and achieving their mission in a cost-effective manner," JBG Principal Greg Trimmer said. "The design and execution of 5600 Fishers Lane allow the agencies housed here to operate as a community that fosters collaboration, chance meetings, and interaction," Trimmer said.
GSA signed a $450 million, 15-year lease in 2011 for the redeveloped space for approximately 4,500 employees and an additional 350,000 square feet space is available for GSA to expand.
County Executive Leggett addressing audience at ribbon cutting event.

@mymcmedia pic.twitter.com/WLJe4rkSwX

— Maureen Chowdhury (@MediaMaureen) May 24, 2016
View from the top of the redeveloped Parklawn building. It's located in Twinbrook. @mymcmedia pic.twitter.com/MTwq7vmiQ3

— Maureen Chowdhury (@MediaMaureen) May 24, 2016
JBG and GSA holding a ribbon cutting ceremony to celebrate new facility to house 4 US HHS agencies. @mymcmedia pic.twitter.com/E4y0NpuU4M

— Maureen Chowdhury (@MediaMaureen) May 24, 2016