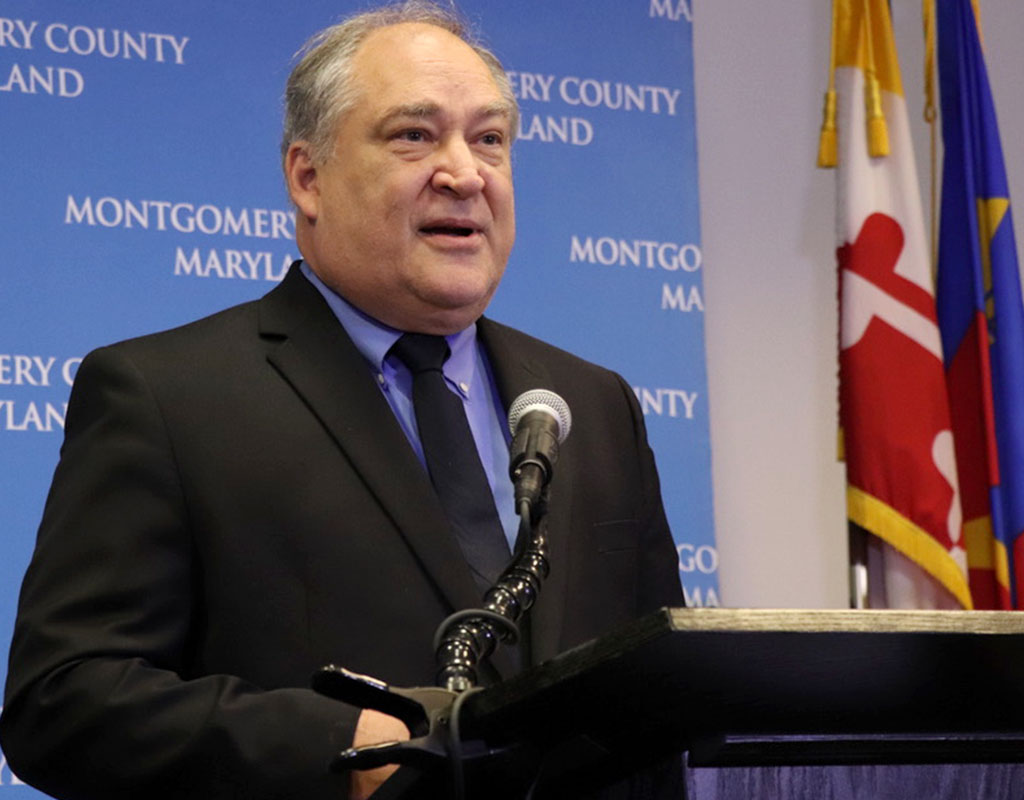 Officials Identify One-Third of County Apartments as 'At Risk' or 'Troubled'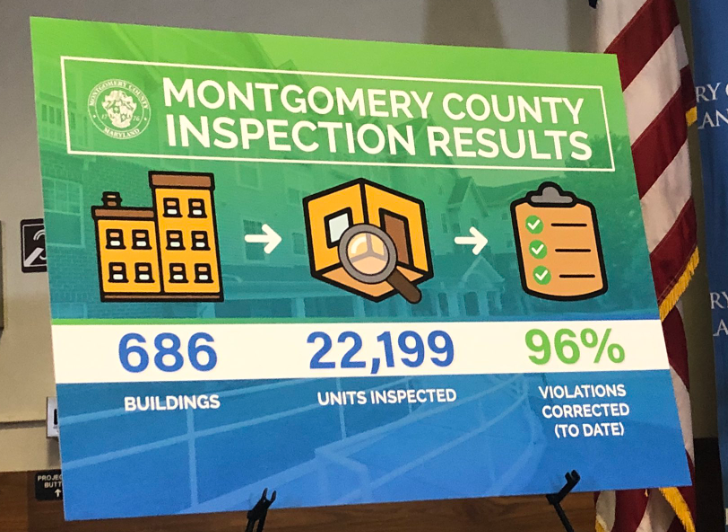 County Executive Marc Elrich held a press conference Thursday to announce the completion of a two-year apartment building inspection project.
During the two-year initiative, the Montgomery County Department of Housing and Community Affairs (DHCA) inspected 22,199 apartment units. Overall, they discovered 31,000 violations—96% of which were corrected.
Violations were given one of three labels based on severity: compliant, at risk, or troubled property.
Two-thirds—or 444—of the apartments were "compliant" with the county standards, and one-third of the properties were identified as either "at risk" (112 apartments) or "troubled" (130).
Of the units inspected, 188 were found to have mold. Recently, DHCA tightened the timeframe for remedying mold and—when it comes to heavy mold—it must be corrected between 24 hours and two weeks, depending on its severity.
Elrich, who sponsored Bill 19-15—the "Tenants Rights Bill"—during his time on the council with then-fellow Councilmembers Nancy Navarro and Tom Hucker, called the inspections "a big step forward for the county."
"After years of neglect, I think landlords in this county got used to the idea that you didn't have to do anything. Setting this marker down sends a very clear message that we expect the buildings to be maintained and there'll be consequences if they're not maintained," Elrich said.
Over the two years, the county inspected 686 buildings and identified troubled properties. @MontgomeryCoMD is working more with landlords and apartment owners to ensure better living conditions. pic.twitter.com/MEWJ0o6UM3

— Deirdre Byrne (@DeirdreByrneMCM) August 8, 2019
"This is one of my 7 priorities," said @Marc_Elrich.

Elrich notes one reason he has a deputy housing director is to look at issues surrounding housing affordability. pic.twitter.com/hbDeQMOHnP

— Deirdre Byrne (@DeirdreByrneMCM) August 8, 2019
.@MoCoCouncilMD's @tomhucker was one of the first sponsors on the bill, along with then Councilmember @nancy_navarro.

"This is a landmark achievement," said Hucker. pic.twitter.com/NFHbg5GOEY

— Deirdre Byrne (@DeirdreByrneMCM) August 8, 2019
(Correction to the above tweet: Elrich introduced Bill 19-15 before the Flower Branch explosion.)
.@tomhucker says that next month @MoCoCouncilMD will have a hearing on requiring apartment units to require air conditioning. pic.twitter.com/naMGIdQ7Bi

— Deirdre Byrne (@DeirdreByrneMCM) August 8, 2019
"In Montgomery County we have 40% of residents who are renters," said @JheanelleW.

Wilkins said that after today she believes more renters may understand that county leaders are listening—and will continue to listen—to their voices. pic.twitter.com/itFm7EUZjt

— Deirdre Byrne (@DeirdreByrneMCM) August 8, 2019