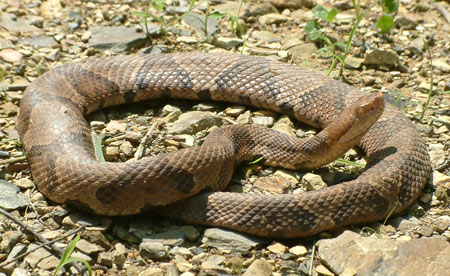 Officials Urge Residents to Use Caution Following Venomous Snake Bite
Officials from the Maryland Department of Natural Resources are urging residents to use caution near wet and wooded areas after a man was reportedly bitten by a copperhead snake at Lake Needwood.
"I think humans come a lot closer to these snakes than we think," said Jonathan McKnight, biologist with the DNR. "They are well camouflaged and do well at fitting in."
According to McKnight, the copperhead snake can appear as a pile of leaves before attacking.
"The attack usually comes by surprise because the snake knows it is well hidden and freezes up before it launches to bite," said McKnight. "The good news, however, is that their venom is known to be milder than other venomous snakes."
This means that if a healthy person is bitten by a copperhead, the injury is less likely to be life-threatening. Symptoms of a copperhead snake bite include swelling, nausea and pain.  If you are bitten, it's important to take off any jewelry near the injury and see a doctor right away.
Other steps, according to health officials, is to immobilize the bitten area and keep it lower than the heart. It's best to stay calm to prevent poison in your nervous system, and don't attempt to drive yourself for medical treatment.
"It's important to see snakes as a part of the natural habitat.  They are really helpful and beneficial," McKnight said. "The trick to avoiding a negative interaction with snakes is to create situational awareness and be cognizant of your surroundings."
One other tip McKnight mentioned for residents turning over their kayaks for the first time this summer is to flip it over and wait since snakes typically make the canoes a home.
For more information on snakes of Maryland, visit the Department of Natural Resources website by clicking here. 
ICYMI (~830p 7/9) Lake Needwood, canoeing on Lake & while coming ashore, an adult male was bitten on foot. He was in good condition. Bite marks indicative of a venemous snake bite, as well as, patient recognized the snake as a copperhead NOTE: venomous bites are rather rare pic.twitter.com/E7DJwos58p

— Pete Piringer (@mcfrsPIO) July 10, 2018
Recent Copperhead Snake bite (Lake Needwood) If snake bitten, Immobilize bitten area & keep it lower than the heart. Get medical help. Do not attempt to drive yourself. Most of all, stay calm (to keep from pumping the poison around your system) Main thing is to get to a hospital pic.twitter.com/DWht1k8FkI

— Pete Piringer (@mcfrsPIO) July 10, 2018