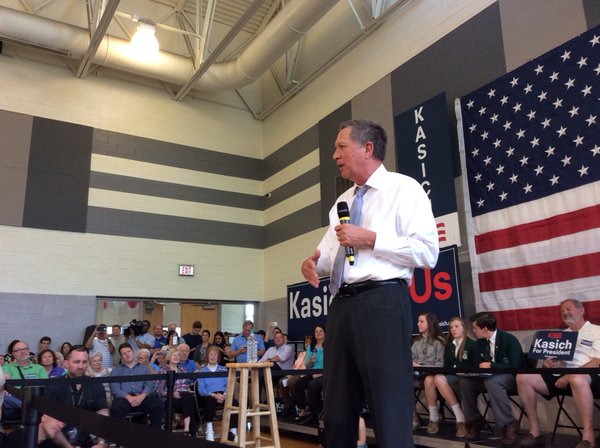 Ohio Governor John Kasich Holds Town Hall in Rockville (PHOTOS & VIDEOS)
Ohio Governor John Kasich held a town hall in Rockville just one day before the Maryland Presidential Primary. According to organizers, over 500 people came out for the event at the Thomas Farm Community Center on Monday. 
During his remarks, Kasich discussed why voters should choose him as the Republican presidential nominee.
He touched on a variety of issues including immigration, health care, climate change and education. Kasich even took time to take an impromptu photo with an 11-year-old student and his mother during his remarks. You can take a listen to some excerpts from Kasich's speech below.
Governor @JohnKasich addresses the crowd in #Rockville @mymcmedia #MoCo #vote pic.twitter.com/BkV3vnVl4L

— Willie James Inman (@imwilljames) April 25, 2016
.@JohnKasich says we need an education system that is flexible. @mymcmedia pic.twitter.com/3KW6l3ZM3d

— Willie James Inman (@imwilljames) April 25, 2016
.@JohnKasich says this is going to go to an open convention. @mymcmedia pic.twitter.com/ckpvTpsrr0

— Willie James Inman (@imwilljames) April 25, 2016
.@JohnKasich touches on #immigration #MoCo #vote @mymcmedia pic.twitter.com/RdCJMQLev5

— Willie James Inman (@imwilljames) April 25, 2016
.@JohnKasich says he's the only Republican candidate that believes in #climatechange @mymcmedia pic.twitter.com/kkCT1JK3J2

— Willie James Inman (@imwilljames) April 25, 2016

Related: