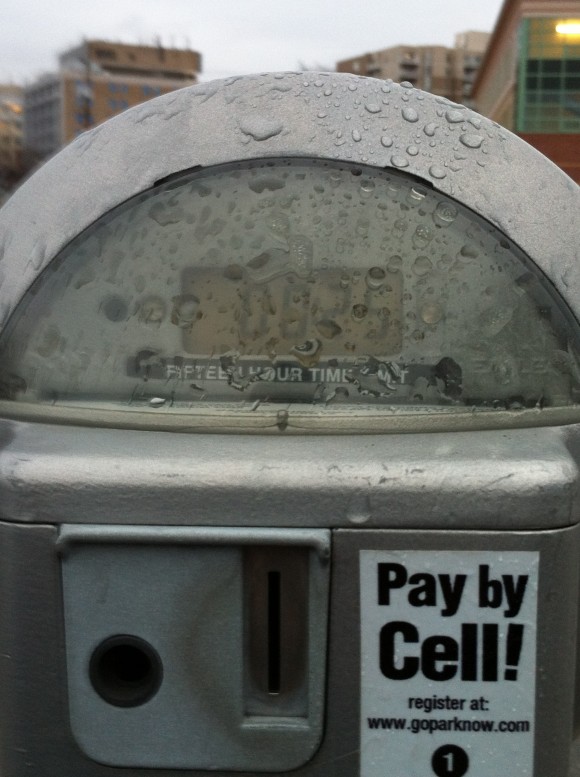 Old Dog. New Trick.
Nickels and dimes never bought enough time.  So, until recently, my friends and I lugged  heavy rolls of quarters, or dove deep into pockets, purses, ashtrays and into the crevices of car seats, hoping to find them — at least until the dawn of the Pay-By-Cell parking meter.
At first glance, most of the Pay-By-Cell Meters look normal, but look closer and you'll see that something's definitely missing. Try to insert that quarter and you'll find it: The meters no longer take coins. And of course, an identifying decal is attached to the side. Still, I have to admit, the meters confounded me at first.
Pay by cell, how, exactly? Squinting to read the small print on the meter, I whipped out my smart phone and tried, on the spot, to figure how to register and pay. A half an hour later, I was late for my appointment, frustrated with the phone and ready to murder the meter.
On several other occasions I repeated this mini-drama with the same results. Adding insult to injury, a couple of my unsuccessful attempts were rewarded with parking tickets. When I learned that Montgomery County signed a contract with MobileNOW LLC to expand the Pay-By-Cell project to approximately 11,000 meters in Bethesda, Silver Spring, Wheaton, Montgomery Hills and North Bethesda over the next few months — I knew that this old dog had to learn a new trick.
Right now, Pay-By-Cell meters account for about 5,000 meters in Bethesda and 4,500 in Silver Spring. They are individually numbered and labeled with the telephone number and website of the parking company. www.goparknow.com  They are here to stay.
My initial mistake was trying to understand the registration process under pressure and on the fly. Trying something new under pressure just didn't work for me. Once I determined to learn in the comfort of home, without looming appointments, waiting friends or pressing errands, it all fell into place.
Turns out, Montgomery County website suggests registering before you park. http://mc.parknow.us/  In the quiet of your home, you'll find the directions easier to see and to follow. Then, the next time you need to park at one of the new meters, you'll have a stress-free choice of ways to pay.
You can park by calling …
Park at a meter with a Pay by Phone decal.
Call (301) 830 7074 with your cell phone.
Enter the meter and location number (on the meter decal).
Select the amount of time you want to park.
Or, you can download the "ParkNOW" application from your phones app store. After that:
Open the app.
Enter the location and meter number.
Select the amount of time.
Click "ParkNOW!"
With the new meters comes a $0.35 transaction fee – in addition to the cost of parking. Those heavy old quarters won't be enough any more.