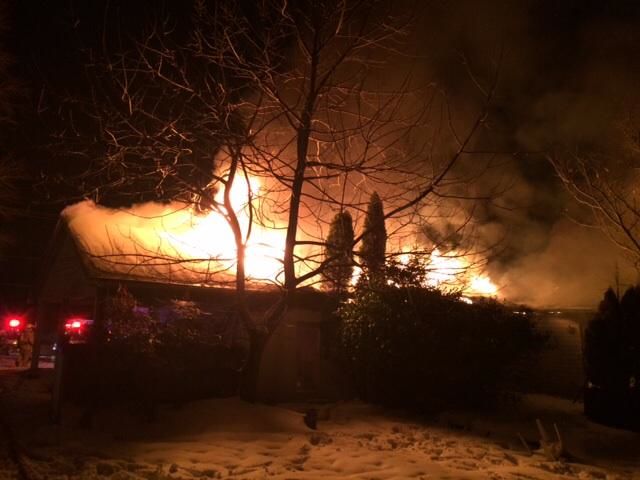 House Fire Causes $425,000 in Damages (PHOTOS)
UPDATED – A house fire at 6408 Olney Laytonsville Road caused an estimated $300,000 in damages to the home and $125,000 in losses to the contents, according to a Montgomery County fire official.
Montgomery County Fire and Rescue Services Spokesperson Pete Piringer said 75 firefighters were engaged in a firefight at the height of the blaze.
The fire was reported around 2:30 a.m. on Feb. 23.
So far, no word on what sparked the blaze.
More….Olney-Laytonsville Rd, #mcfrs FFs & Investigators are still on scene; Damage, $300K structure, $125K contents pic.twitter.com/phgr2XeEE9

— Pete Piringer (@mcfrsPIO) February 23, 2015
ORIGINAL – 
A Montgomery County fire official says 75 firefighters battled a house fire that occurred overnight, around 2:30 a.m., in the 6400 block of Olney Laytonsville Road today.
Fire and Rescue Services Spokesperson Pete Piringer reports the fire is now under control. He said there are road closures in the area because of the fire department's response.
The investigation continues.
U/D Olney-Laytonsville Rd, fire under control, but not out (smoldering hot spots), no one was believed to be home pic.twitter.com/5zvMtvTSxS

— Pete Piringer (@mcfrsPIO) February 23, 2015
Traffic Advisory – Olney-Laytonsville Rd CLOSED between Brink Rd & Fieldcrest Rd, due FD activity — Pete Piringer (@mcfrsPIO) February 23, 2015
U/D – Rt108, house fire, 75 FFs on scene, bulk of fire knocked, but extensive overhaul & hotspots pic.twitter.com/zNPDoThdih

— Pete Piringer (@mcfrsPIO) February 23, 2015
(230a) 6400 Olney-Laytonsville Rd, 1-sty house fire, #mcfrs FFs arrived encountered heavy fire pic.twitter.com/DxvVun6A91 — Pete Piringer (@mcfrsPIO) February 23, 2015