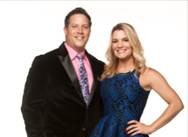 Olney Native Stars in Bravo Show
Olney native – Kirk Knight – will be starring on season two of Bravo's series "Newlyweds: The First Year".
Knight and his wife Laura are scheduled to appear on the show which premieres on March 10 at 10 p.m.
Season two of "Newlyweds: The First Year," follows four new couples — Samantha Abby and Laura Leigh Abby, Erik Courtney and Nadine Jolie Courtney, Kirk and Laura Knight, and Rouvaun Walker and Toi Troutman-Walker — in a series that documents newlyweds for the entire first year of marriage. From challenging in-laws to fertility struggles and merging complicated lives together, the show will feature all of the trials and tribulations that can arise as a newlywed.
Here is a sneak peek at season 2: http://www.bravotv.com/newlyweds-the-first-year/videos/playlist?clip=2842624
For more information on the show, visit http://www.bravotv.com/newlyweds-the-first-year