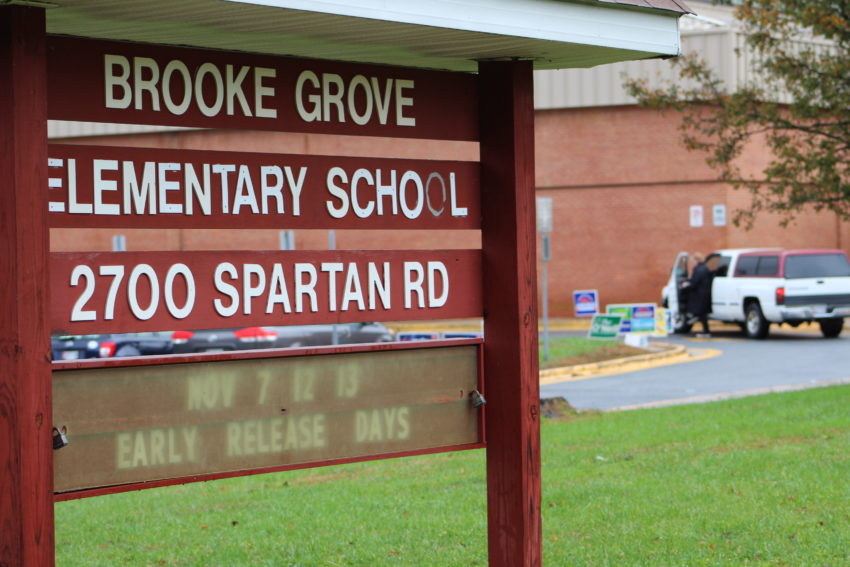 Olney Residents Explain Why They Vote
Olney voters exercised their civic duty in Maryland's 2018 Gubernatorial Election on Tuesday, Nov. 6. Yesterday, we spoke to voters at four voting precincts about the issues and candidates driving them to the polls. For many voters, this midterm election felt more urgent than others.
Here's what the voters had to say.
Sherwood Elementary School
Christopher & Philippa Channer (Olney) brought their kids to the polls this morning. Philippa says it's essential to elect strong leaders in @MontgomeryCoMD.

Christopher was excited to come to the polls this morning because it's his second time voting since becoming a citizen. pic.twitter.com/XEaJzV9hvh

— Deirdre Byrne (@DeirdreByrneMCM) November 6, 2018
Paul Nettleford (Sandy Spring) voted this morning even though he wasn't necessarily excited by a particular candidate.

"The reality is, if you don't vote, you're [essentially] voting for the person who won," said Nettleford. #SherwoodElementary #MoCoVotesMCM #MarylandElection pic.twitter.com/Brmtxdm6kM

— Deirdre Byrne (@DeirdreByrneMCM) November 6, 2018
Sherwood High School
THREAD: I've arrived at Sherwood High School in Olney and look forward to speaking with more voters about what brought them out today!

@mymcmedia #MoCoVotes #MoCoVotesMCM #MarylandElection #ElectionDay #MarylandPolitics pic.twitter.com/2K5teg3E0l

— Deirdre Byrne (@DeirdreByrneMCM) November 6, 2018
@EricLuedtke, former @MCPS teacher, chairs Annapolis's education sub committee. If re-elected District 14's delegate, Luedtke will address school overcrowding.

"Here in @MontgomeryCoMD, part of that conversation has to be that we need more school construction money," he said. pic.twitter.com/UuXrXpayg2

— Deirdre Byrne (@DeirdreByrneMCM) November 6, 2018
Colleen Alexander has spoken to democrats at Sherwood High who are open to @MontgomeryGOP candidates and @GovLarryHogan.

She believes democrats may vote for @LarryHogan because of the "positive effect he's had on Maryland" by improving transportation issues and lowering taxes. pic.twitter.com/gZDNKHHPXS

— Deirdre Byrne (@DeirdreByrneMCM) November 6, 2018
Brooke Grove Elementary School
"I think it's our duty to vote and I wanted to make sure my daughter has a good example of civic duty," said Lenore Eisenhour after she cast her vote at Brooke Grove Elementary in Olney. #MoCoVotesMCM #MarylandElection #MoCoVotes #ElectionDay pic.twitter.com/rmJez6gC0R

— Deirdre Byrne (@DeirdreByrneMCM) November 6, 2018
Fanuel Deressa, from Olney, added that he hopes a "blue wave" comes from these midterm elections. #MarylandElection #MoCoVotesMCM #ElectionDay #MarylandPolitics pic.twitter.com/5zAFYYnjlY

— Deirdre Byrne (@DeirdreByrneMCM) November 6, 2018
Alan Adams (Olney), a Democrat, also voted @LarryHogan for Maryland's Governor today.

"I don't want to just vote straight party line," said Adams. "I just think, basically, @GovLarryHogan is a pretty good person. He seems to care." #ElectionDay #MoCoVotes #MarylandElection pic.twitter.com/hVyFKnQelN

— Deirdre Byrne (@DeirdreByrneMCM) November 6, 2018
In previous years, John Kwafo may not have been as motivated to vote in the midterm elections. Now he believes "the issues that are taking place in our country calls for more concern." #ElectionDay #MoCoVotes #MarylandElection #MoCoVotesMCM #MarylandPolitics pic.twitter.com/vudowbyZxd

— Deirdre Byrne (@DeirdreByrneMCM) November 6, 2018
At 23 years old, this was Kami Gahima's second time voting.

"It doesn't do us much good to just vote for one office," said Gahima. "I feel like we should just be aware of what's going on in our daily lives because that's what affects us the most."#MoCoVotesMCM #ElectionDay pic.twitter.com/1jwBfXEcHm

— Deirdre Byrne (@DeirdreByrneMCM) November 6, 2018
Belmont Elementary School
Correction: I mean **scanning machine** – the machine where you submit a completed ballot. Thank you for the clarification, @Resourcyful.@mymcmedia #MoCoVotesMCM #ElectionDay

— Deirdre Byrne (@DeirdreByrneMCM) November 6, 2018
Angela Freibaum said she saw some of the voters who left return. While I was there, I also saw voters who left, during the long lines, return to vote. pic.twitter.com/N1olXmsHvF

— Deirdre Byrne (@DeirdreByrneMCM) November 6, 2018
When Tyler Buchanan is of voting age, he foresees funding for education as one of his top priorities as a voter. #MarylandElection #MoCoVotesMCM #ElectionDay #MarylandPolitics #MontgomeryCountyMD #MoCoVotes pic.twitter.com/PJtr5GtzZo

— Deirdre Byrne (@DeirdreByrneMCM) November 6, 2018
"We have to participate," said Marilyn Austin. "We can't complain if we don't vote! And I'm more than willing to complain about things I don't like."

#MoCoVotesMCM #MarylandElection #ElectionDay #MarylandPolitics #MontgomeryCountyMD #MoCoVotes pic.twitter.com/ERZGF1VA4Z

— Deirdre Byrne (@DeirdreByrneMCM) November 6, 2018
Sandy Joseph, from Olney, voted a straight democratic ticket for the first time. She said that because of the #KavanaughHearings, she voted in honor of Christine Blasey Ford.

"The republicans cannot be trusted," said Joseph. "They're all afraid of Trump, in my opinion." pic.twitter.com/vEXNuZCiRk

— Deirdre Byrne (@DeirdreByrneMCM) November 6, 2018
Patricia Minami was frustrated that some precinct in Olney seemed less busy than Belmont Elementary School. She indicates that precinct assignments could be more organized.#MontgomeryCountyMD #MoCoVotesMCM #ElectionDay #MoCoVotes #MarylandElection #MarylandPolitics pic.twitter.com/bUfzwwC8Rc

— Deirdre Byrne (@DeirdreByrneMCM) November 6, 2018
I will take a quick break from posting the last voter videos to share these cute pictures of Barney the dog who "voted" at Belmont Elementary School in Olney Mill. #MontgomeryCountyMD #MoCoVotesMCM #ElectionDay #MoCoVotes #MarylandElection #MarylandPolitics pic.twitter.com/Ec8jPhtHs6

— Deirdre Byrne (@DeirdreByrneMCM) November 7, 2018
Ken Sonneberg kept his reason for voting simple: "It's my civic duty to come and vote. No particular issue; no particular candidate. I just vote, and that's what we're all supposed to do."#MontgomeryCountyMD #MoCoVotesMCM #ElectionDay #MarylandElection #MarylandPolitics pic.twitter.com/9ANsOuzcWv

— Deirdre Byrne (@DeirdreByrneMCM) November 7, 2018
Photos from Olney Precincts