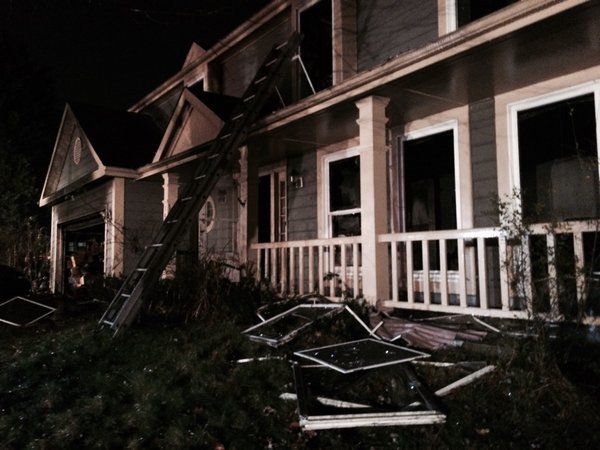 One Injured in House Fire on Settlers Landing Way in North Potomac
A house fire in North Potomac caused $500,000 in damages on Tuesday morning and sent one of the home's occupants to a hospital burn unit for smoke inhalation and possible respiratory injuries, according to a county fire official.
Fire and Rescue Spokesperson Pete Piringer said the fire occurred shortly before 3 a.m. on Tuesday morning at 14443 Settlers Landing Way.
According to Piringer, over 45 firefighters were dispatched to the scene. Piringer said the fire began in the basement and spread to the second floor. He said smoke alarms alerted the occupants of the blaze and they were able to exit the home before firefighters arrived. Piringer said one of the occupants, described as a man in his 20s, is believed to have inhaled some smoke when he went to check on what was causing the smoke alarms to activate.
According to Piringer, firefighters were able to control the blaze within 20 minutes.
The fire originated in the electrical panel in the basement, Piringer said.
As for damages, Piringer said there was an estimated $300,000 in damages to the structure and about $200,000 to the home's contents.
The fire damage has displaced the family, Piringer said.
Piringer is reminding residents that when a fire occurs in your home it is important to "get out and stay out," and then call 9-1-1.
More..Settlers Landing Wy, 1 family displcd, 1 adult male transported to Burn Unit; Damage >$500k; Cause, electrical pic.twitter.com/i59DHcOqhu

— Pete Piringer (@mcfrsPIO) December 1, 2015
More – Settlers Landing Way; fire originated in bsmt; smoke alarms alerted residents 2nd fl; damage significant pic.twitter.com/BhGZITzdRM

— Pete Piringer (@mcfrsPIO) December 1, 2015
Settlers Landing Way – smoke alarms alerted residents, 1 then discovered fire in bsmt, smoke inhalation in process pic.twitter.com/vIv1tUcozG

— Pete Piringer (@mcfrsPIO) December 1, 2015
Update – Settlers Landing Way, EMS transporting 1 adult (resident) Pri1 smoke inhalation & possible respiratory burns to. MedStar Burn Unit

— Pete Piringer (@mcfrsPIO) December 1, 2015
(3a) 14443 Settlers. Landing Way, N Potomac, 2-sty single family house, FFs arrived w/ fire showing from basement, >45 FFs on scene

— Pete Piringer (@mcfrsPIO) December 1, 2015