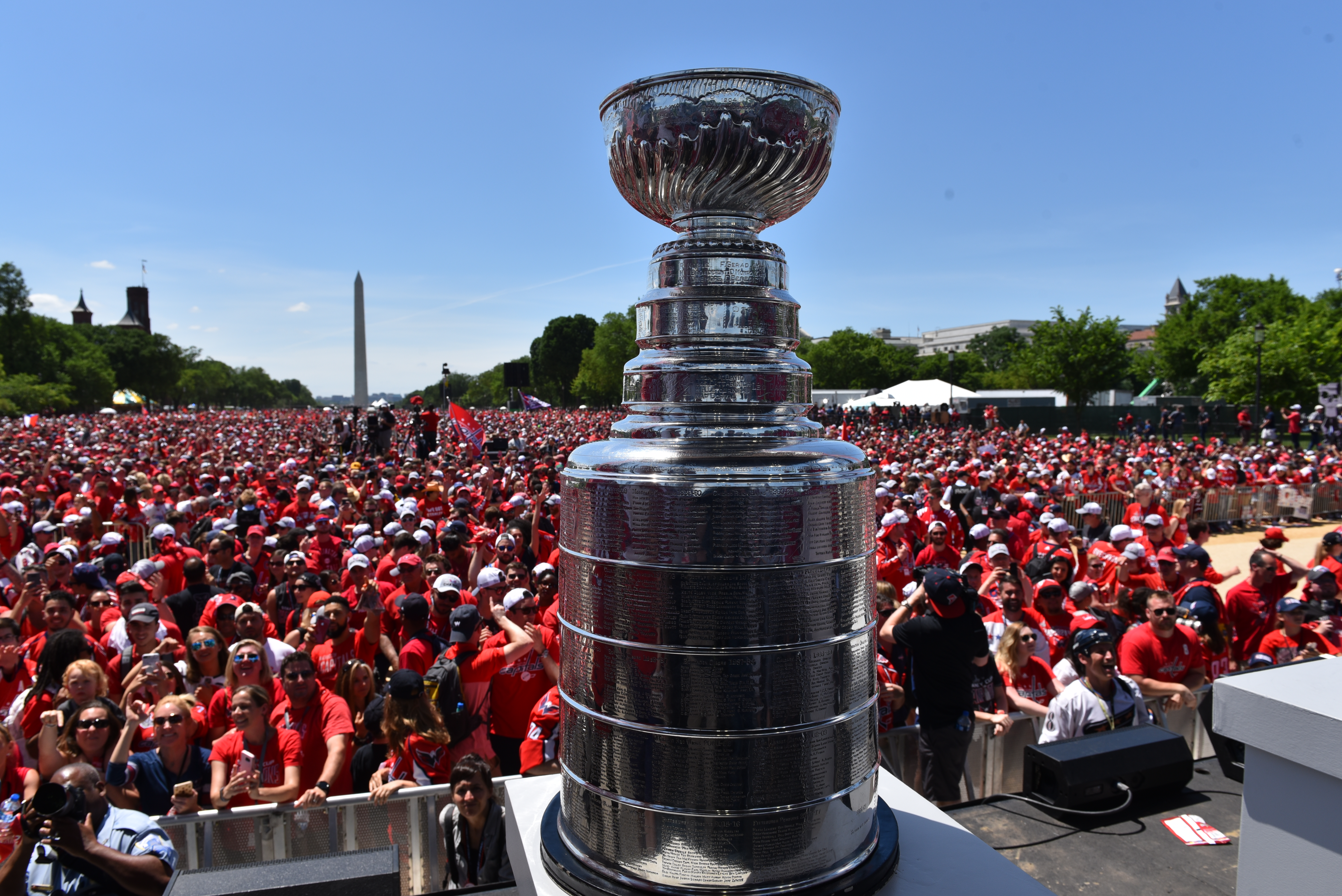 One Year Later, Caps Fans Celebrate Stanley 'Cupiversary'
It was a long time coming. One year ago today, the Washington Capitals clinched their first ever Stanley Cup championship. It was Washington DC's first title in the big four professional sports in 26 years.
Many Caps fans took the opportunity to look back and reminisce about that historic day in Capitals' history.
It all happened 1 year ago… #StanleyCupiversary #June7 pic.twitter.com/xIWsQBpg6U

— Washington Capitals (@Capitals) June 7, 2019
What a cool coincidence that I happen to be working on this commission on the anniversary of The Save. I had no idea until my fluffy assistants told me. 🐰🐻🥅 #workinprogress #ALLCAPS pic.twitter.com/P1Ors9yCAs

— Taylor Kampa Olson (@tkopaintings) May 31, 2019
Happy #StanleyCupiversary! ❤️ I think this might be the greatest photo of us ever taken @jslattx3 pic.twitter.com/QYiJ4M1Mb7

— missa (@missagoodier) June 7, 2019
#StanleyCupiversary #ALLCAPS pic.twitter.com/g4y6OmFoI0

— Vinnie (@vinnie_vici) June 7, 2019
The best #FlashbackFriday you've ever seen.

Happy #StanleyCupiversary, #ALLCAPS fans! pic.twitter.com/spcuIHxMqp

— MonumentalSportsNet (@MonSportsNet) June 7, 2019
One year ago today… a night I'll never forget.#StanleyCupiversary #ALLCAPS pic.twitter.com/oBZ88LB6BG

— Austin Sapin (@AustinSapin) June 7, 2019
Here's where I was one year ago tonight. June 7, 2018. The night life changed for #Caps fans everywhere.

Where were you? Who were you with? What was your experience? Let's re-live this together! #ALLCAPS pic.twitter.com/9JmXk5qGZg

— Rob Carlin (@RobCarlinNBCS) June 7, 2019
Happy Anniversary❗️🏆🎉

One year ago, June 7th, 2018- the Washington Capitals became Stanley Cup Champions for the first time in history.

We all were part of history & it can never be taken away. It was worth the wait. #ALLCAPS pic.twitter.com/Jz24dao6o2

— Emma (@Emmav6522) June 7, 2019