Online Field Technician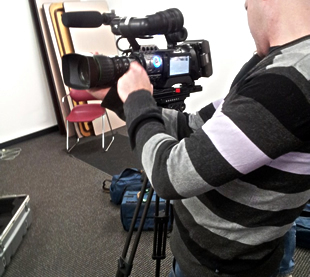 Next Start Date: Ongoing
Length: Open-upon completion
Fee: $75
Instructor: Omri Haberman
Students will learn how to setup professional cameras, audio, lighting and how to wrap cables correctly for field productions The class is setup by short topics  which will include videos, images and instructions to go along with the videos. Students will be given an e-mail  to contact MCM with questions and  help while working with the course material. When finished watching the videos and feel comfortable with the information, students will be able to schedule a "hands on session" with one of the instructors before taking the certification test. Upon successful completion of the class, students will get a certificate which enables them to work as crew with Field Producers.
CLASS IS NOW OPEN FOR REGISTRATION
If you are not currently a member of Montgomery Community Media, you will need to join and pay the membership fee for the current year. Check the appropriate link below to become a member.
The class fee is $75.00 for Montgomery Community Media members.
Contact MCM Training Services to register