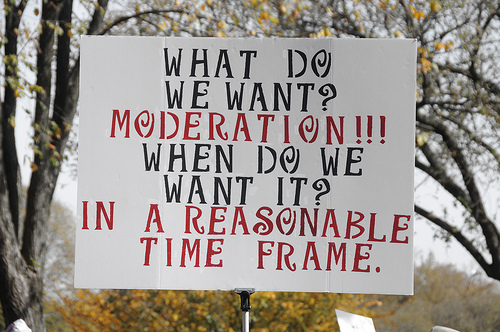 Op-Ed: A Call for Political Moderation

November 21, 2011
Dear Reader,
The partisan polity that American government seems to have become is one in which toleration for dissent and dialogue have given way to obedience and obeisance to leadership. Who were once the representatives of the people, have now in large part become fettered by a party machine that, as a rule, has concentrated the seat of political power in the hands of those few few in the upper echelon of party leadership.
The resultant oligarchy, irrespective of its benevolence or malevolence, gravitates towards intolerance of diversity of opinion. Legislators become complicit; the gradual accrual of political capital necessitates as much. Political independence from party leadership becomes dangerously equivocal with political isolation and impotence.
The antidote: an informed and civically responsible electorate.
The Jefferson Library of Congress building, arguably the most magnificent architectural tribute to the American Democratic experiment and one of the grandest edifices in the Western Hemisphere, is crowned with a golden flame, not unlike that proud torch thrust by Lady Liberty as an invitation and a challenge to those "huddled masses…wretched refuse…homeless…tempest-tost" to join and strengthen our Republic with their productivity, ideas, and active citizenship. This is the golden flame of knowledge, ignited by the passions of those ideas in which our Constitution was conceived, destined to dispel the darkness of ignorance.
Our participatory democratic republic is dependent upon the ability of Americans to think critically, independently, and with a broader social conscience as individual contributors to a greater society. Public education was introduced at the dawn of our nation in recognition of the need for our citizens to make educated decisions as to the direction of the ship of state. Our Founding Fathers recognized that ignorance, not the threat of foreign invasion or the collapse of the Federal Treasury, presented the greatest danger to the foundational principles of our young republic. Autocratic, despotic rule, reasoned our intellectual forebears, could only prevail over an ill-informed, manipulated population.
In Maryland, the importance of public education is such that it is the only annual appropriation that is mandated by the state constitution.
Party leadership is able to hold sway in our 51 legislatures because of the power of the political party to fundraise. Political terms have morphed into ceaseless fundraising campaigns that operate throughout an election cycle. Politicians become indebted to special interests and to party leadership because of the increasing political dependence of these politicians on the campaign fundraising abilities of political action committees and party apparatuses. Political survival has come to depend upon raising unprecedented amounts of cash for expenditure on political literature and advertising.
The enormous costs of these investments in mass political communication are borne by politicians because advertising influences voters. The majority of products purchased with campaign funds do not delve deeply in a particular candidate's political, legislative, or casework abilities, accomplishments, or character. It follows that direct mailings, bumper stickers, door hangers, and signs, are generally created to generate name recognition and to create an emotional appeal to voters that are not likely to invest much effort in researching candidates on the ballot.
A concerted grassroots push for campaign finance reform, coupled with educational reform and a cultural shift towards civic engagement on local, state, and national levels, are the foundational tonic for our uniquely American form of political malaise.
The liberation of the American mind will inexorably lead to the liberation of the American politician and thus the American legislative process and a return to a democratic republic in which we can stand with heads held high, proclaiming: This is America, We are Americans, and I am an American!
This was originally posted in Revealing Our Humanity.