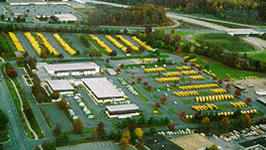 Opponents of Blair G. Ewing Center Demolition Plan Rally (VIDEO)
Opponents of the Montgomery County Public Schools' plan to demolish the Blair G. Ewing Center off Avery Road and replace it with a bus depot for nearly 400 buses are planning a rally on Thursday in front of the County Council building.
The rally, scheduled from 2 to 3 p.m., is set just before the Montgomery County Council's Education Committee meets with MCPS representatives to talk about the project.
The school system plan includes $32 million for a bus depot project that school officials say is needed because the district must vacate its Shady Grove bus depot off Crabbs Branch Way, with about 400 buses, by January 2017. Superintendent Dr. Joshua Starr's plan proposes considering the 22.5-acre Ewing site for the new depot. The Blair G. Ewing Center houses the school system's Alternative Education Programs that serve middle and high school-age students. The students now at the Ewing school would be transferred to the English Manor site currently leased by the School for Tomorrow organization as an independent school for grades 4-12.
A group of mostly Aspen Hill citizens have launched an effort against the project filing an appeal with the Maryland State Board of Education recently. That appeal objects to the demolition of a school building at a time when school capacity is an issue, according to the appeal. The group also is concerned about the bus traffic on Avery Road and loss of parkland if the new bus depot is sited on the Ewing property. MCPS Spokesman Dana Tofig said he is not sure if the school system has filed its response yet to that appeal.
The Aspen Hill Civic Association, which is the neighborhood where the English Manor school is located, has come out against the plan saying English Manor should be reopened as an elementary school and the Ewing students should not be transferred to the site.
"I think there are so many things wrong with this plan. It is not just about our neighborhood. It is disastrous on all angles," said Jamison Adcock, vice president of the association.
In January 2006, the Montgomery County Council adopted the Shady Grove Sector Plan. which signaled the future transformation of the existing County Service Park along Crabbs Branch Way in Rockville from an industrial complex into a mixed-use community with a new residential focus at the Shady Grove Metro station. In December 2007,the county executive placed in motion the Smart Growth Initiative to relocate all of the operations at the County Service Park. The Montgomery County Public Schools Shady Grove Transportation Depot is the largest of those operations.
Rockville's Mayor Bridget Newton talked about the issue in this MyMCMedia Extra.