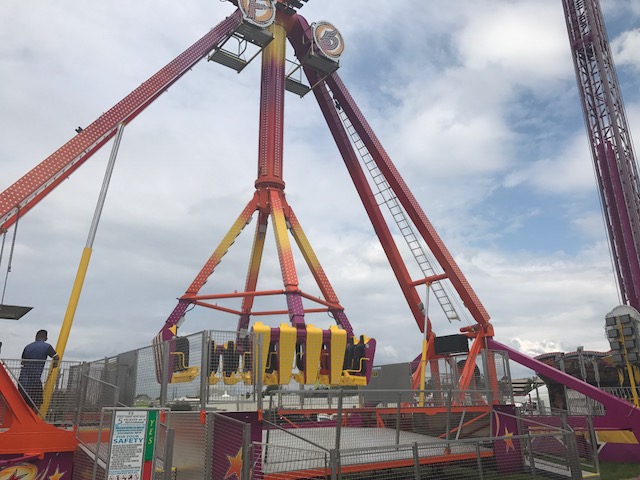 Organizers Expecting More Than 200,000 People to Attend This Year's Ag Fair (VIDEO)
Doors are officially open at the 2017 Montgomery County Agricultural Fair and dozens were lined up early to enjoy this year's festivities.
"It's just fantastic," said Alison Israel of Bowie. "We love to come here; we're like big kids. We like the rides, the food […] we just have a wonderful time every time we come."
This is the 69th Annual Agricultural Fair in the county and organizers said they are expecting more than 200,000 people for the entire nine-days.
Visitors can expect new rides and games and even something new on the menu.
"There is chocolate covered bacon here for the first time ever, and we have fried macaroni and cheese," said Marty Svercek, executive director for the fair.
There are various activities for everyone in the family to enjoy, according to organizers, including the most important: learning about farms and where food comes from.
"One of the most important things for people to know is why we have farms, what farming is about and where their food comes from," said 2017 Montgomery County Agricultural Fair King, Patrick O'Hanlon.
This family event will go on until Aug. 19.
The Montgomery County Agricultural Fair has just opened. Dozens of people are in line @mymcmedia pic.twitter.com/TbLMmhpPbp

— Mitti Hicks (@MittiMegan) August 11, 2017
Let the games begin!!! @mymcmedia pic.twitter.com/w2KXfRk2IF

— Mitti Hicks (@MittiMegan) August 11, 2017
Here's 1 ride to expect this year. I'm scared of heights so this ride is a NO for me but I'm sure some of you will give it a go. @mymcmedia pic.twitter.com/HdJBUHyayN

— Mitti Hicks (@MittiMegan) August 11, 2017