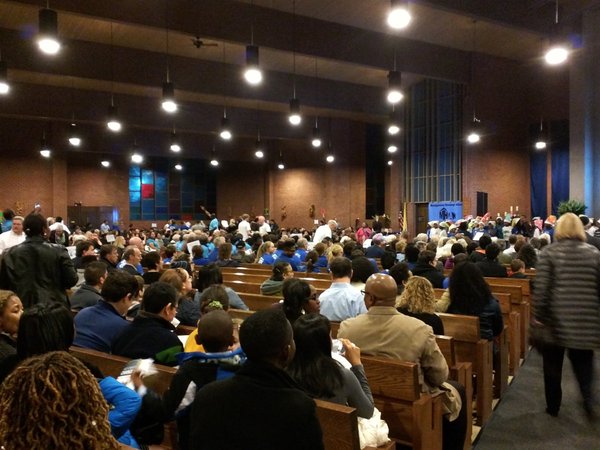 Over 1,400 Residents Turn Out to Support Education and Affordable Housing in Montgomery County (PHOTOS)
On Wednesday night, 1,460 people of different faiths and backgrounds filled the pews of St. Camilus Church in Silver Spring to discuss affordable housing and education. Organized by Action in Montgomery (AIM), the event sought to challenge members of the Montgomery County Council and engage local residents on the two key issues of affordable housing and access to education programs.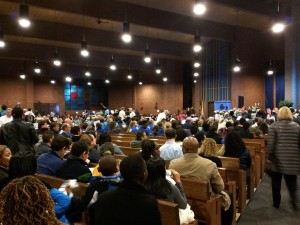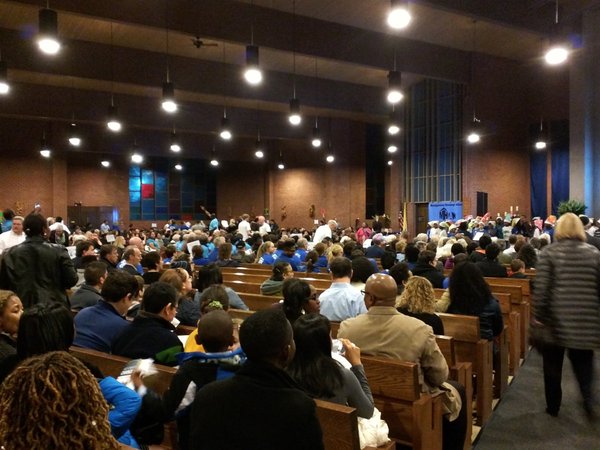 "The two needs we hear about most in conversations with local residents are access to affordable housing and before and after school enrichment programs. People in wealthier school districts can afford childcare, but it's hard for two [ low] income families. We are asking for $1.5 million for five schools to fund two hours a day for these programs," said Rev. Nancy Ladd, co-organizer of AIM and senior minister of the River Road Unitarian Universalist Congregation in Bethesda.
According to a press release AIM, a 60,000 member community network, seeks to restore the Housing Initiative Fund to $54 million and fully implement it's Child First Montgomery program. Child First Montgomery is an after-school parent organizing program created in a partnership with the Montgomery County Public School system that seeks to support children and families in five high poverty elementary schools.
Montgomery Council President Nancy Floreen said, "I am a champion of housing and a champion of education," during her remarks. Council member Tom Hucker went further saying, "I'm going to be a champion of these initiatives and I'm happy to be one of the five votes."  Council Members Roger Berliner, Marc Elrich,  Nancy Navarro and Hans Riemer were also in attendance.
Jane Lyder of Bethesda stressed that she is interested in both causes but she has grown concerned about the rising cost of housing. "There's a real need for affordable housing, it's an expensive place to live when teachers, firefighters, police and the people who work in our shops cannot afford to live here."
To find out more about Action in Montgomery you can visit their website.
1,460 people present for #actioninmontgomery event per @AIMforPower organizers @mymcmedia pic.twitter.com/hn7D9x53c7

— Willie James Inman (@imwilljames) December 10, 2015
@MoCoCouncilMD President @NancyFloreen says "Im a champion for children and a champion for housing." @mymcmedia pic.twitter.com/htyqiWlzBN — Willie James Inman (@imwilljames) December 10, 2015
Members of the community call on @MoCoCouncilMD to make housing affordable in Montgomery County. @mymcmedia pic.twitter.com/5RgxoHALl0

— Willie James Inman (@imwilljames) December 10, 2015